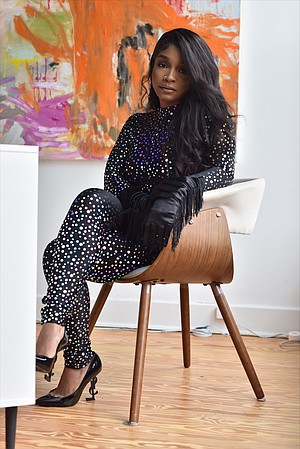 With over 500,000 collective streams on digital sales platforms, Houston's Newest R&B Artist Xandi, hosted an exclusive listening party for newly released album "Girl Talk" August 3rd at The Spot Eado.
Xandi is a young singer/songwriter born and raised in Houston. Having a passion for performing and a love for R&B music since the age of 4, Xandi discovered a talent for writing her own music. The young superstar has written ALL of her songs including her first mainstream single "You", her first EP titled "Feels Like Nirvana", her second EP "Catharsis", and her third EP "By My Lonely" which can all be found on all major platforms.
Houston Style Magazine: You and your team hosted a 'Girl Talk' listening party Aug 3rd, how was it?
Xandi: It was good! We hosted it at my parents' club, The Spot Eado and it was a great experience. The whole city came out - old elementary classmates and it was good to see people singing the words to my songs.
HSM: We heard that you wrote all your songs and that's very impressive; tell us more about your journey as a songwriter?
Xandi: started out singing covers and then wanted to find a way to put out my own music and so I started writing remixes. That's how I got started and my songwriting just grew with it.
HSM: How did you get your start as a singer in Houston?
Xandi: I'm from Houston and grew up in Pearland. I went to Dawson high school. For college I attended Howard University, and when I finished I built my career here. Houston is an underrated gem in the music industry and I want to connect with the city.
HSM: As I was listening to the album, I felt like the opening track gave SWV vibes. Where did you find your inspiration and sound?
Xandi: [My sound is] old school R&B feel mixed with new school, I'm also inspired my Mary j Blige, India Arie, Jill Scott, Jazmyn Sullivan, Summer Walker, music like that. I like to fuse old and new. I also incorporate a Houston vibe with my music.
HSM: Tell us about 'Girl Talk'
Xandi: Girl Talk is me being truthful with myself and my goal was to have no skips. I truly feel like there are no skips [on this EP] and anybody can listen to this all the way through. The differences with all my other projects is that I make music for me and with 'Girl Talk' it is all about me trying to relate to feminine energy, heartache, ups and success, missing people, it is a way to connect us in that way, we [women] can relate to.
HSM: Is there a song on the album most personal or one you resonate with the most?
Xandi: Let go, it's from a direct situation I was going through at that time, that song was a direct reflection of what I had going on in my love life at the time.
HSM: So, what's next? Any upcoming promotional tours or appearances?
Xandi: Right now my songs are playing on the radio 93.7 [The Beat]. I am also singing national anthem at Prairie View vs. TSU on Sept. 3rd. You can also find me performing around the city, and at community service events. I want to touch the city. I also have another EP coming out in the next month. We've already recorded 3 songs for it.
HSM: Where can readers follow you?
Xandi: On instagram you can find me at @xandiofficial and on Twitter @officialxandi_ . You can find 'Girl Talk' on all streaming platforms just search girl talk. Also check out my latest single 'Say My Name' out now.