Joy Williams, Celebrity hairstylist based in Houston and Senior Artist for Miss USA and Miss Teen USA sponsor Team Flawless, helped to create the winning curly hair look that Elle Smith (formerly Miss Kentucky USA) showcase when she was crowned Miss USA 2021.
An award winning Texture Specialist and highly sought after stylist, this is not Joy's first time creating the winning hairstyle for the Miss USA Queen. In 2019, Joy was the stylist behind former Miss USA Cheslie Kryst's beautiful curly hair as well as Miss Teen USA 2019 Kaliegh Garris' hair and she was on the hair team for Miss Universe 2019. ]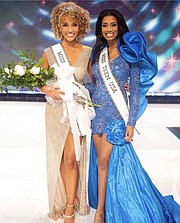 This year, in addition to helping Albert Luiz style the new Miss USA 2021 Elle Smith's hair, Joy also styled the hair of the reigning Miss USA 2020 Aysa Smith, and was the stylist behind 3 out of the Top 5 Miss Teen USA contestants, many of which had highly texture hair. Miss DC Teen USA, Miss Utah Teen USA and Miss Pennsylvania Teen USA were all styled by Joy.
She says , "It is my honor to do what I do and help make our Black Queens look beautiful and feel seen in spaces where we were once overlooked."
Joy believes her versatility to do all hair types has opened doors for her in the pageant world but particularly is excited about doing textured hair because "representation has not always been there as far as stylist knowing how to work with all hair textures and so the curly and coily hair contestants didn't have the stylist backup to take the risk and rock their natural curls confidently. I hope to continue to change that narrative."
Visit www.joybeautywilliams.com for more details on how to book Joy.