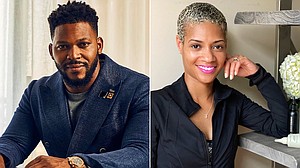 "The consumer feedback has been fantastic," he said of recent interactions with customers.
The key for Sunday II Sunday is focusing on a woman's scalp and its depletion of sebum, a natural oil the human body produces to moisturize the skin. Every person's hair is different, but Davis Alexander said women with naturally textured hair tend to have dryer scalps than women with silkier hair due to the differing shape of their follicles and the way sebum moves through them.
As a result, women with textured hair tend to wash their hair less often to avoid drying it out, but working out during the week complicates matters.
"When you sweat excessively from working out, the sebum is diluted," Davis Alexander told CNN Business. "There needs to be something to remove that sweat from the scalp to make sure the sebum can do its job. Our products are giving women a solution to say, 'You can work out and still have a moisturized hair and scalp."
Sunday II Sunday's line of products are designed to be applied to the scalp between shampooing sessions during the week, hence the product line's name.
"There's a fear that when Black women sweat, the style starts to become frizzy and look a little more wild," Beasley said. "Our goal is to help women live their lives without compromises. If she wants to get in the pool, work out, we want to show her what she can do with her hair and what she can with that activity."