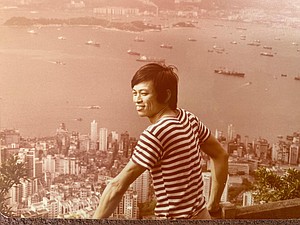 By Ivan Watson, Rebecca Wright and Vanesse Chan, CNN
(CNN) -- For Ha Sze-yuen, the sea surrounding Hong Kong is more than just a backdrop for sunsets and beaches.
The 73-year old views the ocean as his route to freedom - a means of escape from the oppression and poverty of communist China.
On the night of April 16, 1975, Ha and a friend slipped past Chinese border guards and plunged their homemade, inflatable rubber dinghy into the dark water of Shenzhen Bay.
They then started paddling toward the bright lights of Hong Kong, which at the time was still a British colony.
Ha said he had already been caught and jailed three times during previous failed attempts to swim across the water. After the third attempt, he said, guards beat him so badly his mother cried when she saw his wounds.
"I was fighting for my freedom," Ha said. "I was afraid, but compared to life in China the fear was nothing."
Ha said he and his mother, a school teacher, were persecuted during the Cultural Revolution, a period of political chaos and violence unleashed by Mao Zedong, due in part to the fact his father had been a Kuomintang military officer who fled Communist rule after his side lost the Chinese civil war.
During the worst decades of Mao's rule, thousands of Chinese fled south into Hong Kong.
In photos take​n after Ha's final, successful attempt to make it to the city, the beaming 28-year-old stands looking over Hong Kong's Victoria Harbor, dressed in bell-bottom trousers and a fashionable striped shirt.
But 45 years later, Ha no longer sees this historic port city as a sanctuary.
"Now I feel like freedom is being taken away gradually," he said, referring to an ongoing crackdown on political opposition in the city by the government and Chinese authorities, who recently imposed a national security law on Hong Kong, which has further limited space for dissent and left many activists fearing arrest.
The arrests of close to 10,000 anti-government protesters over the past year and the increasing targeting of opposition politicians and activists have created a phenomenon that would have been considered unimaginable to many just a few years ago.
Some Hong Kongers are now taking great risks to flee the city, even choosing to try to smuggle themselves out by sea.
Motorboat to Taiwan
Flies buzz around rabbitfish drying in the sun on a concrete pier emerging from the sleepy fishing village of Po Toi O.
This was the origin point for an ultimately failed escape attempt from Hong Kong that began one evening in August.
Several villagers -- none of whom want to be named to avoid possible reprisals -- said they saw a group of people loading fuel onto an open speedboat equipped with three outboard motors. The group then set out from the pier around sunset.
A resident, who also asked not to be named, said the group made a mistake leaving after sunset, when there is not much activity on the water. He pointed out that smugglers, moving everything from frozen meat to people between Hong Kong and mainland China, typically operate in the light of day, when crowds of pleasure boats and fishermen provide better cover from authorities.