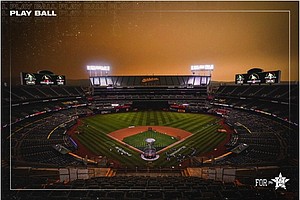 One day after breaking a six-game losing streak, the Astros bullpen woes continued as Houston allowed a walk-off single by Oakland's Ramon Laureano to push them 5 ½ games out of first place in the AL West. The A's defeated the Astros 3-2 on Wednesday night in a game that Houston needed badly, winning only one game out of the eight played in California.
The biggest issue that plagued the Astros was the number of walks given up to A's hitters late in the game. Houston's relievers allowed five runners to reach base on walks in the last three innings of the game.
"It's totally debilitating because they live off walks. The last few innings we had walks," said Astros manager Dusty Baker. "We kind of gave that game away."
Rookie pitcher Luis Garcia went five scoreless innings before handing the ball over to the bullpen with a 1-0 lead. That lead increased by another run when first baseman Yuli Gurriel hit a solo shot in the top of the sixth inning to put his team in a position to win its second game in a row and gain some ground on the A's.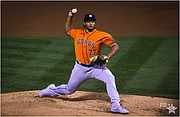 All that changed in the bottom of the seventh inning when two runners reached base via walks by relief pitchers Cionel Perez and Josh James. Both of those runs would score when left fielder Kyle Tucker misplayed a Tommy La Stella shallow fly ball that eventually wound up in the A's bullpen.
"It kicked off me and all the way into their bullpen," Tucker said after the game. "Two runs scored. That's a ball I should have caught."
The Astros sent their closer Ryan Pressly to the mound with the score tied at two in the bottom of the ninth inning to try and send the game into extra innings. He would surrender a leadoff walk to Sean Murphy and then hit his former teammate Tony Kemp with a pitch. Pressly seemed to work himself out of a jam by getting two outs in the inning but allowed Laureano, who had been hitless in the game to line a single to left-center field to drive home the winning run.
It was some sweet revenge for Laureano. He was suspended last month for a verbal altercation with Astros hitting coach Alex Cintron that resulted in both teams clearing their benches after he was hit by a pitch.
"It's always good to win especially against a team that is behind us in the race," Laureano said.
Houston has one more chance to gain some ground on the A's as they will play their final game in Oakland before heading to Los Angeles to take on the Dodgers in a two-game series.