Even in the midst of an economically challenging year for most americans and one of the biggest modern day pandemics, the support is pouring out for S.A.F.E. Diversities. Affectionately known as "Mi-Mi" to the community, non-profit founder Thelma Scott and her board is committed to making sure graduating students have the best experience and tools needed before and after their commencement celebrations. Every 1st Saturday of the month, the S.A.F.E. committee honors student, parents, outreach advocates and veterans within the community. The organizations purpose is to reduce the drop-out and suicide rate and to support students with "Unique Abilities" in high school to complete their education. According to their Purpose statement, students are encouraged and nurtured to increase and fortify their capabilities in the areas of Science, Technology, Engineering, Arts and Math (S.T.E.A.M.) programs. They also follow students through out their college career.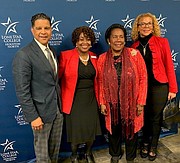 The diversity and inclusion activist is a 3-time suicide and breast-cancer survivor who is a well-known community leader to our Texas governor and as far as the White House. She has received countless awards for her commitment to making a difference in Houston and most importantly to our next generation. We've had a chance to let our readers know about the great works of Thelma Scott and her phenomenal organization last March, read more here.
S.A.F.E. Diversities is celebrating their 20 Year Anniversary as an organization in addition to their accomplishments of remaining successful at their goals with the help of many individuals and companies.
Due to COVID-19, the organization will host their first-ever 6th Annual Blue Carpet Scholarship Awards GALA virtually. The online celebration will take place on Friday, July 10, 2020 from 6:00pm to 7:00pm and Saturday, July 11, 2020 - 11:00am to 12:30pm. Special Guest Robert Springer, President & General Manager for KHOU Channel 11 News will be the Keynote Speaker.

The SAFE Diversity Communities is a 501(c) 3 (75 - 0587180) Non-Profit organization that focuses on stopping the stigma of bullying, reducing the dropout and suicide rate for at-risk high school students with disabilities who are emotionally and mentally challenged. We encourage empowerment by equipping them to become self-sufficient, discover their maximum potential and achieve their academic goals.
Follow SAFE Diversity Communities on social media:
Facebook, Twitter and Instagram
For more details about their 7th Annual Scholarship Awards, please visit S.A.F. E.'s website: