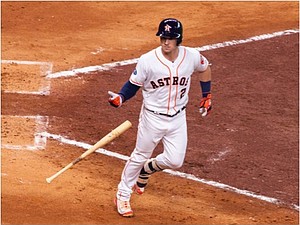 One day after having their 15-game winning streak snapped against divisional foe Seattle Mariners, the Houston Astros (3-1) got back to some familiar ground on Monday night and that is dominating the Mariners (1-3). Houston scored runs in three consecutive innings to defeat Seattle 8-5 and take the series 3-1.
The game started out a little rough for Astros starter Josh James (No Decision) who was making his first start since 2018. He threw 23 first inning pitches and was barely missing the strike zone with his fastball. In the second inning James was able to grab command of his pitches, but in the third inning the game got away from him.
James gave up walks to Shed Long, J.P. Crawford, and Kyle Lewis to start the inning. He was able to get Kyle Seager to hit into a double play that scored Long for the games first run as Crawford advanced to third. Just when it looked like he may have been able to escape the inning,
Evan White hit a blast to left-center field on a 1-2 pitch that put the Mariners up by three runs. James got Tim Lopes to pop out to Jose Altuve for the third out and that was his last inning for the night. He pitched three innings giving up three earned runs on 75 pitches.
"I felt great early, but I didn't really have it command wise," said James who arrived late to Summer Camp 2020 due to the birth of his daughter. "My adrenaline was going a little bit and I just have to do a better job in-game of being aware of moments I need to slow the game down."
Houston would rally back in the bottom of the third against Seattle's starting pitcher Kendall Graveman (0-1) who was making his first start after missing over two years due to Tommy John surgery. His outing wasn't as good as he would have liked only lasting four innings giving up six earned runs on six hits.
"That is a very talented lineup," Graveman said after the game. "The loss is on me. I am responsible for that."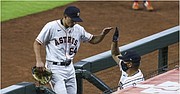 The Astros used a four-run inning led by Jose Altuve's double down the left field line to drive in two-runs and Alex Bregman's home run to left field gave the Astros their first lead of the game.
That 389-foot shot over the Crawford Boxes would be Bregman's 100th of his major league career making him the 18th Astros player in team history to reach that milestone.
"It felt good because it helped us win the game today and gave us the lead, but I am definitely not satisfied with 100," Bregman said after the game about his accomplishment.
Although Bregman's homerun was exciting. It was relief pitcher Brandon Bielak's (1-0) performance that stole the show. Bielak was called up Monday after the Astros placed their ace Justin Verlander on the 10-day IL with a forearm strain. He made his Major League debut in the top of the fourth after relieving James and pitched 3 1/3 innings only allowing one earned run.