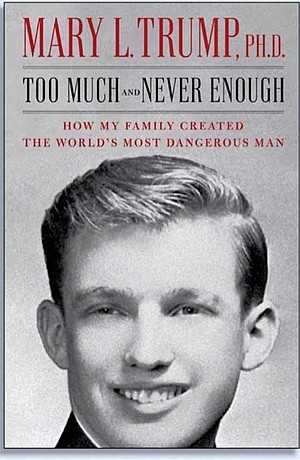 explain the author's claim that as Fred Jr. lay dying of a cardiac condition the family waited a week before seeking medical help.
Decades later, Mary Trump says she sees the dysfunction she witnessed as a young member of the Trump clan playing out on a national scale during the pandemic. Instead of acting swiftly to address Covid-19, the President has refused to take responsibility for early mistakes or to meaningfully adjust as things grew worse. Incapable of facing even a hint of failure, he has offered distractions and denials until he has seemed to lose interest. Recently the Washington Post reported that the White House may be hoping people just get used to the illness and death.
"While thousands of Americans die alone, Donald touts stock market gains," Mary Trump writes. "As my father lay dying alone, Donald went to the movies. If he can in any way profit from your death, he'll facilitate it, and then he'll ignore the fact that you died. ... The fact is that Donald is fundamentally incapable of acknowledging the suffering of others. Telling the stories of those we've lost would bore him."
In one of the most famous episodes of the Trump family story, Mary Trump and her broth- er sued after discovering that as their father›s heirs they were denied a share of Fred Sr.›s estate
The suit was eventually settled out of court but the hard feelings that were stirred did not disap- pear. Mary Trump wrote that she got a reminder of where her father stood with the family when, after her grandmother died, he wasn't mentioned as one of her children in the published obituary.
In writing and publishing her book now, de- cades after the will dispute was settled, Mary Trump has opened herself up to the possibility that she will be subject to more vilification by the President and his allies. Kellyanne Conway, the President's counselor, has already taken a few swipes at her, noting that books are «not fact checked, nobody›s under oath.» She also warned against «a rush to slap credibility on whoever›s getting the President that day.»
In fact, Mary Trump has ample credibility, due to a life spent dealing with the extended Trump clan, including her powerful uncle. This credibility is amplified by her professional qualifications and by the mix of fierce honesty and decency she appears to dis- play throughout the book as she reveals the good and the bad. Her decency can be seen in the compassion she shows for the Donald Trump who, as a very little boy, she writes, was deprived of a mother's care, due to her many illnesses and whose father was incapable of offering loving attention. "Donald's main source of comfort and human connection was taken from him," she writes. Left to the care of household staff and a disinterested father, she adds, "Donald suffered deprivations that would scar him for life."
One suggestion of the way that Donald Trump's development was arrested in childhood comes in an anecdote that Mary Trump shares of an incident that occurred from inside the White House. Invited to a family celebration after the election, she catches the sound of a familiar story about one of young Donald's brothers dumping a bowl of mashed potatoes on the future President's head. She looks to see if the older Trump is finally able to laugh at himself. Instead, she recalls, he folded his arms on his chest and glowered.