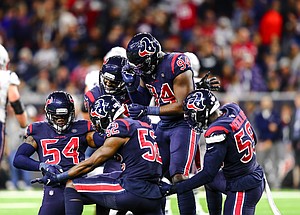 On Saturday at NRG Stadium, the Houston Texans will do their best to try and bring a small amount of peace to some of the drama lifelong Houston Oilers fans have had to endure since the 1993 NFL Wildcard Playoff weekend. Most of them can tell you where they were and exactly what they were doing on January 3, 1993.
"We had been keeping up with the game at church and when the Oilers went into halftime up 28-3, we were all saying to ourselves, 'We got this,' said retired Navy Chief Paul Crampton who is a fan of the Oilers and Texans. "By the time we hopped in the church fan and turned the radio on the game the Bills were up 38-35. Jesus himself could have just taken me right then."
It has been called "The Comeback" by a lot of NFL analysts and fans who were around to witness the Buffalo Bills erased a 35-3 deficit to defeat the Houston Oilers 41-38 in the 1993 Wildcard game.
This weekend when the Texans (10-6) play the Buffalo Bills (10-6) in the first game of the 2020 NFL Playoffs, they won't focus on the past but are aware that there will be a lot of fans in attendance who still won't talk about that game to this day. They will all be rooting for Houston to exercise those demons of the past.
"I'm not going down that road. Holy smokes, that was 26 years ago," Texans head coach Bill O' Brien said to the media. The game will be played in 2020. So, we got a lot of work to do, we've got a very tough opponent coming in here that's played very well."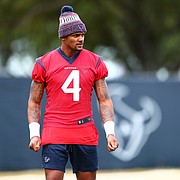 Houston will look to get past some of its own playoff miscues as they have come up short since 2015 with a 1-3 record over the last four playoff games. The last being a 21-7 defeat to the Colts last year at home. Texans quarterback Deshaun Watson has learned a lot since that dreadful Indianapolis loss and is better prepared and knows what to expect playing in only his second playoff game in his career.
"Every play matters," Watson said. "You don't really know it until you actually experienced that, and that's what we experienced last year."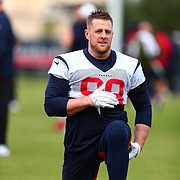 This weekend's game also marks the return of Texans defensive leader J.J. Watt. He had been out for a little more than two months after undergoing surgery to repair a torn pectoral muscle. His return may give the team and fans the emotional lift needed to defeat the Bills.
"I'm really excited about it," Watt said about his return. "Any time you're away from the game and you get a chance to go back into, you have so much appreciation, so much excitement for it."
Time may not heal all wounds, but a Texans victory over the Bills would be just what the Oiler/Texans fans would need to cure the hurt they endured watching the Bills celebrate one of the most impossible comebacks of all-times.