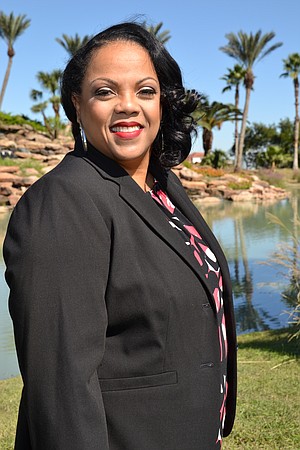 What started off in the living room of her home over ten years ago has now turned into one of Houston's most iconic events for women. Diva's Day has grown from 15 women in the first year to over 150+. The event has attracted large participation of women with various professions and global sponsorship such as this year's 2019 Sponsor Samsung.
Founder of Diva's Day, Kim Mason, prides herself on philanthropy. Presiding as the President of 501(c)(3) Women Cultivating Greatness, Kim's annual event supports the cherished Houston nonprofit. Wife, mother, visionary and entrepreneur Kim Mason created Women Cultivating Greatness (formerly Gracious Diva Network) fueled from her passion to help educate and empower those with learning challenges or learning disabilities. Kim was born in New York, NY and moved to Houston with her family when she was 10 years old. The Harlem native struggled through school her entire life not fully understanding what was hindering her learning abilities. Kim was later diagnosed with Dyslexia. "The big thing about it is, I finally had a name to what had been going on with me all my life.. I don't like the term learning disabilities, I just think it's learning differently, " Kim stated. Dyslexia runs in her family. Kim hid her learning challenges from everyone except her two sisters. With help from tutors and her will power to achieve goals unimaginable, Kim graduated from the University of Houston with a degree in Psychology/Sociology.
 When Kim's daughter was born, she tested her frequently because she didn't want her daughter to have the same challenges growing up if she were to be dyslexic. Fortunately, the Founder of WCG daughter didn't have dyslexia and excelled at the top of her class all through grade school, college and now grad school learning hindrance.
When declaring Oct. 5th, 2019 "Diva's Day" for the city of Houston Mayor Turner states in the proclamation:
(KimMason) Exhibiting an exceptional amount of community philanthropy Diva's Day has inspired and encouraged many Houstonian professionals through the message and story of CEO Kim Mason. Kim is passionate about helping women live a life of excellence! As the founder of Diva's Day and Women Cultivating Greatness (WCG) Kim's pursuit is to help women get 'unstuck' through educational seminars and powerful networking events that allow women to "connect, communicate and collaborate." Many have been touched and transformed by Kim's story of being dyslexic. She struggled through school her entire life. Her goal is to not allow women to suffer in silence from learning disabilities or challenges. She is dedicated to helping women succeed by leveling the playing field so they can truly live to their God-given potential.
Kim expressed her excitement for the city of Houston's Mayor Sylvester Turner's announcement to declare October Dyslexia month. In 2020, Kim plans to initiate the 'I Am Great Inspite of' Program holding over 8 courses to help with memorization techniques. All monies collected from the fundraising event will go towards the highly anticipated program.
Divas Day is slated to observe the 10th Year Celebration: Diva's Day 2019 on Saturday, October 5th, 2019 at The Hilton Garden Inn, Pearland, Texas 8:30 AM - 1:30 PM. This event will focus on women empowerment, healthy relationships, self-care and more. Enjoy a plentiful breakfast, door prizes given and lots of great shopping opportunities.
Dynamic speakers for 2019 will include:
Amanda Edwards-Houston City Council Woman & Empowerment Speaker
Stephanie D. McKenzie- Owner, The Relationship Firm & The Healing Firm, Healthy Relationships & Self Care
Dr. D. Ivan Young- Keynote Speaker & Relationship Expert
Dionne Murphy-Author, Speaker & Owner of Her Virtual Gym Nolen Davis-Guinness Book of World Records Holder, Radio Host, Motivational Speaker and Servant Leader.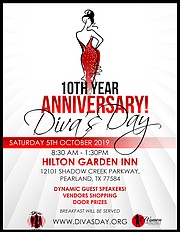 For more information on the 10th Anniversary of Diva's Day or how to get involved, visit:
Connect on social media: