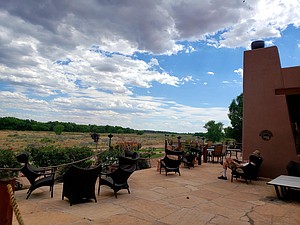 Between Albuquerque and Santa Fe, New Mexico, you will find a resort like no other – Hyatt Regency Tamaya Resort and Spa; a large-scale resort flawlessly nestled upon more than 500 acres on the Sana Ana Pueblo, offering glorious panoramic views of the Sangre de Cristo Mountains.
My weekend stay at Tamaya was perfect for a much-needed escape filled with relaxation, cultural experiences and a hint of adventure. So come along this escapade with me and find out why Tamaya Resort and Spa should be your next destination getaway!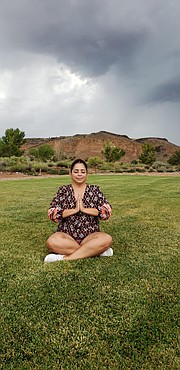 Upon my arrival to Albuquerque, everything was different from the busy hustle and bustle of Houston city life. There was less traffic (ok, a lot less traffic), slower welcoming pace, beautiful views of the scenic mountains and best of all - no humidity. (My hair rejoiced!)
I opted not to rent a car since my mission was to simply "resort and relax". Instead, I had a private company drive me to my destination. As we departed for a short 15 to 20 minute drive from the airport, we came upon a winding road that would eventually lead us to Tamaya Resort and Spa. I kept looking out of the window wondering exactly the resort was. All I could see was beautiful mountain terrain. The road seem to go on forever as I was anxious to visually see and experience the "Oasis in the Dessert" as my driver described it.
Upon my arrival, the staff greeted me, promptly checked me in, and sent me off to my room with a complimentary margarita. Now that is a way to greet your guests! The room was very comfy and spacious with large bathrooms and plenty of counter space. (Because you know us ladies are all about the counter space!). But that's not the best part. Not only was my bathroom stocked with the regular hotel amenities – you know, the small bottles of shampoo, conditioner, and lotion, but also there was an entire basket filled with name brand toiletries. From toothbrushes and toothpaste, to dental floss, deodorant, hairspray, razors and shaving cream, all the toiletries necessary provided by the resort just in case you're like me and always forget to pack something here and there.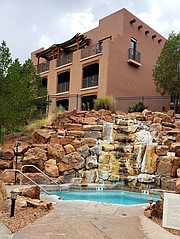 Quick note: When booking your room, make sure to ask for a view of the Sandia Crest. The mountain's different hues throughout the day are a delight. Whether enjoying room service on the patio or sipping on a cocktail during the evening, the view is definitely one to be admired. And for my Instagrammers, this set up makes for the perfect photo opportunity to showcase your vacation retreat.
For the vacationist wanting to get away from it all, Tamaya is the perfect stay. From your large comfy room with a view to the the Kiva Adult pool, where quiet is key, Tamaya provides plenty of resort opportunities to escape from it all
However, if you want some poolside enjoyment with fun activities, then the large Plaza Pool area featuring a multi-story waterslide is just for you. This is where you will find the poolside bar (yay!) along with recreational activities such as volleyball, ping-pong, biggie sized lawn chess, horse shoes or perhaps an evening bike ride along the trail by Snake Head Rock or the Rio Grande River. No worries – there are various sized bikes for all you shorties like me. Oh, and if you just happen to bring along your beloved pooch, there are even bike attachments available to tote your doggie. Yes, Tamaya is a pet friendly resort – HOORAY! Or should I say "woof, woof"?