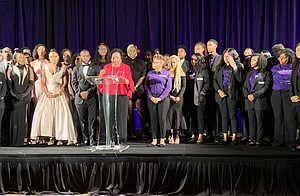 To be clear: Prairie View A&M Foundation's Third Annual Fundraising Gala was a clear call to action. From its opening remarks delivered by the Master of Ceremony, KHOU TV Anchor Len Cannon, to the closing remarks delivered by one of the Foundation's Trustees and Vice Chair, Dr. Donetta Goodall, the message was clear: donations, like those made to the university through PVAMF, directly impact the ability of the university to offer a quality of education to its students and ensure future success in their chosen fields, communities, and the world-at-large.

The annual gala marked a decade of contributions to the university through the foundation with a poignant theme of 'Ten Years of Growing Greatness Through Giving.' After being checked in and welcomed, guests were invited to participate in a silent auction, which showcased Prairie View A&M University's long history of producing productive people. As guests viewed auction items, they caught up with classmates and others, exchanging memories of time well spent on campus.

The ballroom was decorated with the university's regal purple and gold school colors and sparkled from the light that reflected from the crystal centerpieces adorning each table; a perfect compliment to the well dressed guests and honorees. The affair opened with remarks from Houston's Mayor Sylvester Turner, Prairie View's Mayor David Allen, and Texas A&M University's Chancellor John Sharp. Each remarked of the school's successes as well as the success of PVAMF in supporting the university's continued mission of providing quality education its students.

As the affair continued, the foundation shared a video with its guests to commemorate the organization's 10th anniversary, which placed the event in its respective place in the university's 143-year-old history. The video told a story of how throughout the years, since its founding in 1876, Prairie View A&M University has been able to meet and overcome challenges with the support of alumni and other generous donors, including members of the foundation. Dr. Goodall gave the formal welcome following the video presentation and expounded on its message, introducing the foundation's trustees starting with Mr. Roy G. Perry, one of the night's honorees and the visionary behind PVAMF.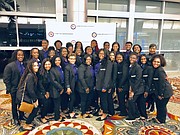 Dr. Goodall's remarks expressed her dedication to investing in our future through a donation to the university. She welcomed all in attendance to become active donors, if not, and went the step further to urge all to invite others to donate as well. She gave each guest a DVD detailing the first 125 years of the university's history. She remarked that Prairie View has long been one of the 'best kept secrets' and hoped guests would use the DVDs to spread the university's rich history. The DVD not only provided a valuable lesson, but it is also a memorable keepsake.

After Dr. Goodall's message, a student video presentation was shown where the evening's message showed clear as day. One student highlighted on the video was a young lady named Inez Frazier. Frazier majors in architecture and currently holds a 3.95 GPA. In the presentation, Frazier stated with the foundation's funds she is able to focus on school which she sees as a way for the generosity to continue. As she stated the foundation is an example where 'others can help one and one can help others.'