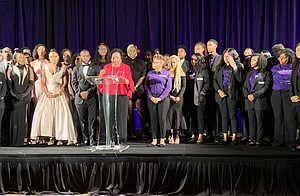 To be clear: Prairie View A&M Foundation's Third Annual Fundraising Gala was a clear call to action. From its opening remarks delivered by the Master of Ceremony, KHOU TV Anchor Len Cannon, to the closing remarks delivered by one of the Foundation's Trustees and Vice Chair, Dr. Donetta Goodall, the message was clear: donations, like those made to the university through PVAMF, directly impact the ability of the university to offer a quality of education to its students and ensure future success in their chosen fields, communities, and the world-at-large.

The annual gala marked a decade of contributions to the university through the foundation with a poignant theme of 'Ten Years of Growing Greatness Through Giving.' After being checked in and welcomed, guests were invited to participate in a silent auction, which showcased Prairie View A&M University's long history of producing productive people. As guests viewed auction items, they caught up with classmates and others, exchanging memories of time well spent on campus.

The ballroom was decorated with the university's regal purple and gold school colors and sparkled from the light that reflected from the crystal centerpieces adorning each table; a perfect compliment to the well dressed guests and honorees. The affair opened with remarks from Houston's Mayor Sylvester Turner, Prairie View's Mayor David Allen, and Texas A&M University's Chancellor John Sharp. Each remarked of the school's successes as well as the success of PVAMF in supporting the university's continued mission of providing quality education its students.

As the affair continued, the foundation shared a video with its guests to commemorate the organization's 10th anniversary, which placed the event in its respective place in the university's 143-year-old history. The video told a story of how throughout the years, since its founding in 1876, Prairie View A&M University has been able to meet and overcome challenges with the support of alumni and other generous donors, including members of the foundation. Dr. Goodall gave the formal welcome following the video presentation and expounded on its message, introducing the foundation's trustees starting with Mr. Roy G. Perry, one of the night's honorees and the visionary behind PVAMF.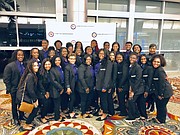 Dr. Goodall's remarks expressed her dedication to investing in our future through a donation to the university. She welcomed all in attendance to become active donors, if not, and went the step further to urge all to invite others to donate as well. She gave each guest a DVD detailing the first 125 years of the university's history. She remarked that Prairie View has long been one of the 'best kept secrets' and hoped guests would use the DVDs to spread the university's rich history. The DVD not only provided a valuable lesson, but it is also a memorable keepsake.

After Dr. Goodall's message, a student video presentation was shown where the evening's message showed clear as day. One student highlighted on the video was a young lady named Inez Frazier. Frazier majors in architecture and currently holds a 3.95 GPA. In the presentation, Frazier stated with the foundation's funds she is able to focus on school which she sees as a way for the generosity to continue. As she stated the foundation is an example where 'others can help one and one can help others.'




The gala's keynote speaker was the university's esteemed President, Dr. Ruth Simmons, who spoke in the stead of Dr. Maya Rockeymoore Cummings, wife of Rep. Elijah Cummings (D-Md.), who unfortunately had to cancel due to a family emergency. Dr. Simmons came out of retirement to lead Prairie View A&M University after most recently serving as President and Professor of Comparative Literature and Africana Studies at Brown University from 2001-2012. Dr. Simmons, herself a learned scholar and recipient of many honors, did not disappoint. Being at the helm of the university, Simmons spoke with direct knowledge and visionary perspective on the subject of how giving directly impacts the quality of education and experiences offered to her students. She remarked that it is not enough to have an undergraduate degree, students must have faculty at the cutting edge of their fields, they need to travel and do field research and go outside of their comfort zones to gain greater confidence in their place in the world. She stressed that donor generosity is a way of ensuring that the university affords its student's those opportunities.

She illustrated donor dollars at work in an unscripted move of inviting students in attendance to join her on stage to share some of their accounts. Two students who shared accounts on stage were members of The Panther Ambassadors Organization, a collection of 50 of the institution's most ideal Prairie View men and women representatives. One shared that he'd worked with the Congressional Black Caucus over the summer while the other shared starting a non-profit organization working with children and their mothers in her spare time. Each of the accounts bolstered the points made by Dr. Simmons. I was able to speak with many of the other students who did not speak on stage and their stories were much of the same; student's excelling in their studies while making an impact around them.

The program wrapped with special award presentations to the night's honorees, Mr. Roy G. Perry and Mrs. Lois J. Moore, RN, both distinguished Prairie View A&M University alumni with long histories of achievement and recognition. The night from start-to-finish was inspirational and as the Tom Burton Band entertained us as we mingled.
I had an opportunity to speak with one of the student's who'd joined Dr. Simmons on stage, Ms. India Jones. Jones is a junior mechanical engineering major who attended the gala as a guest of one of the foundation's trustees and her boss at Dow Chemicals over the summer. Jones said she was grateful for the opportunity to see her former boss in action, to get a glimpse of 'the other side' as she plans one day to own her own firm and too create resources and a pipeline for success.
Cheers to PVAMF for celebrating 'Ten Years of Growing Greatness Through Giving' and setting the example for others to do the same.

You can give to PVAMF by 1) making checks payable to: Prairie View A&M Foundation; 2) Mail to: 6436 Fannin Street, Room 112, Houston, Texas 77030; or visit pvamf.org.

Happy Giving!