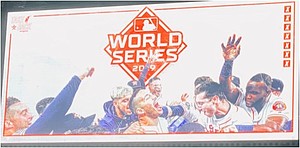 During their run towards "Back to Back" NBA titles, the Houston Rockets ran into some serious trouble against the Phoenix Suns in the Western Conference Semifinals. Houston went down in that series 3-1 and was on the brink of elimination in Game 5. The overall theme from the head coach all the way down to the last player on the bench was to take it one game at a time. Don't jump ahead. Just win the game you are playing, and you will earn the chance to play another one with the same opportunity.
We all know how that series ended. Rockets guard/forward Mario Elie sent the Charles Barkley led Phoenix Suns home in Game 7 with the "Kiss of Death" shot heard around the world and the Rockets would go on to win another NBA title.
I am pretty sure that Astros manager, AJ Hinch gave his team the same message that Rockets head coach, Rudy Tomjonavich did before Game 3 of the World Series against the Washington Nationals. His team heard it loud and clear as they went out and completed the task by defeating the Nationals 4-1 to bring the best-of-seven series to 2-1. Washington also had its eight game postseason win streak broken with the loss.
'We're pretty good, too," said Hinch. "It kind of re-establishes us in this series. When they come into our ballpark and beat Cole and Verlander, that's a big punch."
The Astros (1-2) used a solid pitching performance by Game 3 starter, Zack Greinke who threw 4 2/3 innings while allowing seven hits and one earned run and a solid bullpen rotation to get the win. Greinke pitched his way out of trouble in numerous innings and held the Nationals (2-1) hitters at bay with a variety of off-speed pitches.
Washington ran into the same trouble that Houston had suffered from in the first two games. The Astros batters was 3-for-17 with runners in scoring position in the first two games and a dismal 17-for-97 with RISP this postseason. On tonight it was the Nationals turn to feel that pain as they went 0-for-10 with RISP and stranding 12 runners on base.
"We took balls I thought we should hit, uncharacteristic of what we've been doing," said Nationals manager Dave Martinez. "Greinke got out of some jams. [We] got opportunities early. We couldn't capitalize."
Houston wasted no time in establishing dominance in the second inning when outfielder Josh Reddick was able to drop in a bloop single into shallow left field to bring home shortstop Carlos Correa who had doubled earlier at bat. In the top of the third inning, the hottest batter for Houston in the World Series, Jose Altuve doubled to left field and made his way to third base after an error by Nationals young phenom, Juan Soto. Michael Brantley would hit an RBI single off the glove of pitcher, Anibal Sanchez in the next at-bat to put the Astros up 2-0.
"Jose's the heart and soul of what we do," Hinch said of his second baseman.