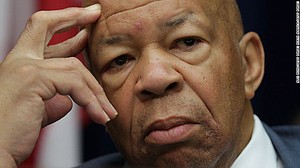 As he led the investigative efforts, Cummings clashed publicly with the President. But despite being an outspoken and passionate defender of Democratic causes in Congress, Cummings fostered strong relationships with Republicans across Capitol Hill.
House GOP leader Kevin McCarthy of California spoke in honor of the late congressman last week on the House floor, saying, "Chairman Cummings had an enormous presence."
"Every time we spoke of selecting an individual who can rise to the occasion to be in debate with him, we would look for somebody who was strong, and every time someone was selected, they'd come back to be a very best friend of Elijah Cummings," McCarthy said.
Cummings, who grew up during the civil rights movement, became a leading voice among African American lawmakers on Capitol Hill.
"He spoke truth to power, defended the disenfranchised and represented West Baltimore with strength and dignity," Rep. Hakeem Jeffries of New York, the House Democratic Caucus chairman and a fellow member of the Congressional Black Caucus, tweeted last week. "Congress has lost a Champion. Heaven has gained an Angel of Justice. May he forever #RestInPower."
The Baltimore Sun has reported that a funeral for Cummings will be held in Baltimore on Friday at New Psalmist Baptist Church, citing a spokeswoman for the church.
Bill and Hillary Clinton are expected to speak at the service, their offices tell CNN.
CNN's Lauren Fox and Kaanita Iyer contributed to this report.