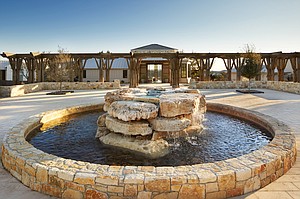 Miraval Austin is the quintessential getaway that lies like hidden treasure in the depths of the heart of Hill Country. After being acquired by Hyatt back in 2017, Miraval Austin, formerly Travassa Austin has since revamped the 220-acre property. Health and wellness are continuous themes while much of the property's landscape and lodging has undergone a facelift. We had a chance to experience the magic of Miraval last month and from the moment you arrive you can ascertain that the experience will be unlike any other resort stay. During check-in, guests are welcomed with a refreshing Rosemary Paloma mocktail and given a mini tour around the forested hills. Morning meditation sessions, relaxation in the spa, Vinyasa yoga practices, and a variety of outdoor adventures throughout the rolling hills of Austin, offers the perfect balance for individuals looking to escape their routine and fully immerse themselves in this country oasis.
The property consists of 117 beautiful guests rooms in a village-like setting, two infinity pools, a restaurant specializing in local and sustainable fare, 10-acre farm, 24hr Body Mindfulness Center, a two-story Life in Balance Spa and a yoga barn. Miraval promotes a digital device-free environment, which allows guests to be fully present and engage with themselves in meaningful ways. Guests are provided a cell phone sleeping bag and even a bed to unplug, and give their phones a rest; there are only two designated areas for usage throughout the property.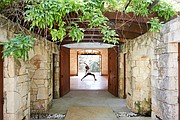 Miraval Austin has created a place where people come; solo, with their partners, or friends, for an adventure with like-minded souls, good healthy food, and one of the most beautiful landscapes in the Balcones Canyonlands Preserve. With the world shifting towards wellness, Miraval Austin is creating a self-care environment for people to improve their health and spiritual wellbeing. This zenful paradise will help visitors harness an infinite power of self-love and personal growth through a number of experiences that speak to the spirit and soul. Guests can choose from Crystal meditation, dancing the body's mind, finding your inner calm, Intro to Tarot and many more. The wellness specialists on-site are passionate about their practices and some even offer private sessions.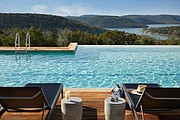 If you're looking to ignite your creativity you can enjoy an unforgettable canvas activity that utilizes a real horse as your canvas or by joining one of the culinary workshops in the state-of-the-art kitchen equipped with Williams Sonoma's culinary tools. At Miraval, the options to feed your soul are endless and at your fingertips. When you need to refuel you can head down to the Hilltop Crossing Kitchen for breakfast, lunch and dinner where you'll have the choice to dine on options from the daily inspiration menu or enjoy a buffet spread complete with fresh ingredients from the Cypress Creek farm. If you need a quick pick me up you can always swing by The Nest adjacent to the kitchen for organic items from the grab-n-go bar.
Overdue for mindful moment? Head down to Austin for a day trip and take advantage of the Miraval day package. Packages start at $449 and include access to a host of wellness activities and workshops, gourmet lunch and all of the resort amenities. Step out of your comfort zone this fall and find harmony in body and mind at Miraval Austin.