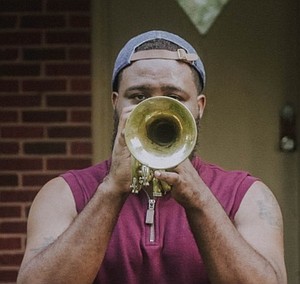 On Thursday night, artist Amaru "The Musical Nomad" broke out his trumpet before a bustling crowd filled with mental health supporters. The Pink Canopy non-profit and documentary project hosted their First Annual Mental Health Mixer at a black-owned restaurant in Spring, TX called Go Cajun Subs. It was about providing a moment of "healing experiences and aural stimulation," Amaru stated. We got a chance to speak briefly with Amaru about his journey and insight on mental health.
Ke'Ke: As a musician, how do you keep a healthy mind for performances?
Amaru: I usually just end up not thinking about negativity or anything that may hinder my performance. I focus on the Music.
Ke'Ke: What are some of your greatest accomplishments in the past year or so?
Amaru: I had the tremendous honor of being an extra in Solange's "When I Get Home" short film and having a song placed on HBO Insecure Season 3 Episode 2. The song is called "Slip Away" by Ill Camille  ft. Amaru. I'm very proud of that! Also, being able to contribute to Ill Camille's "Heirloom" Album with my production too via Interludes. She is an outstanding MC and is currently on a world tour.
Ke'Ke: Any advice to those who battle mental health issues?
My best advice to someone who is coping with mental health issues is to not let anything build up and try to seek help. I myself have dealt with severe childhood trauma, bottled up emotions, but I can honestly say when I was a child, anger management worked for me, thanks to my Grandmother. It really helped me as an adult.
Ke'Ke: Do you have any current projects, if so, what song should a new fan check out?
I have 3 projects out on all streaming platforms (Apple Music, Spotify, Tidal, etc.) as well as Singles that I released earlier this year (Heat Series). I would suggest a new fan to check out "Heat C" ft. Bee Honey. I produced it and obviously sang on it with the Soulful Angelic Voice of Bee Honey [who just so happens to be his talented wife]. That song was on Apple Music's 'Alt R&B Playlist' for a few weeks. Woo! My songs range from love, making love and my real life experiences.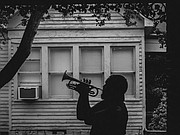 My album Castles in the Sand is next up for me and is set to be released between now and the end of the year. Stay tuned!
Follow Amaru "The Musical Nomad" on Facebook, Instagram and Twitter.