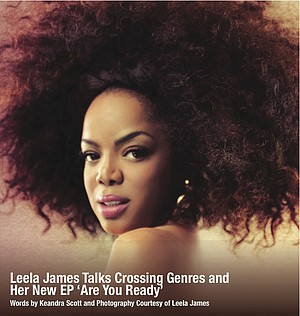 Clincher: Soul singer Leela James brought her Cali-rooted charm in the form of great weather to Houston in an exclusive in-person interview at The Raven Tower.
Who says you can't switch from R&B to rock and produce a kick-rear (insert what you want) sound? Since the beginning of time, African-Americans have always branched out on an experimental voyage to express joy and pain from negro spirituals to the deep pits from whence soul music was birthed in the 1950s. Former R&B Divas: Los Angeles songstress Leela James alongside The Truth Band takes a fiery stab at a 6-track EP entitled, 'Are You Ready'. The album comes as a follow up to 'Did It For Love' and it vibes, greatly. James' single "That Woman" delivers an embodiment of what 'Are You Ready' is all about; it's fearless as she belts out an ode to self-respect; she demands it. Baby Etta first performed "That Woman" in DC at the inaugural Black Girls Rock! Festival as she took the stage with names like hip-hop femcee Rapsody, Elle Varner, Jazmine Sullivan and more.
There's a lot more to the Houston-based powerhouse vocalist since gracing Houston Style Magazine in 2017. From her private married life and being a proud mother of two, her musical journey is 'consistently evolving'. It was windy, sunny with clear skies as we sat down with Leela to discuss her
Ke'Ke: How has Houston embraced you?
Leela James: Houston has totally embraced me, it has definitely become my new home, my second home. I was born and raised in South Central L.A. and I've been here now for several years. I travel back and forth to L.A. still, but, I own property in Houston and I'm raising my family here-I have children. Shout out to Majic 102.1, Hey Terri, ha-ha. It's lots of love here in Houston. I've done several shows at the Arena Theatre as well as the House of Blues and they've been sold out a few times. I've definitely acclimated myself here, so, I feel like I've been blessed to have two homes, my birthplace in South Central and then Houston. My family originated out of Texas, so when we did come back, it was like going back to their roots.
Ke'Ke: Since the feature in 2017 with Houston Style Magazine, what do you feel has changed since then?
Leela James: Well, obviously, I'm older, ha-ha (insert: still looking the same). We got a hurricane under our belt, let's see. For me, my musical journey is constantly evolving, and I think where I am in 2019 verses 2017 is just more of an attitude I've always had, "I'mma do me." I've been a little bit reserved, at the same time, as much as I'm not allowing myself to be boxed, I was still treading the waters as safely as possible and now I'm just like, you know it was so much going on. It is what it is, let the chips fall where they may. Gloves off, and that's what you heard in "That Woman." I might not have recorded "That Woman" a couple of years ago, but, in light of everything that has been happening, the 'Me Too' movement and just the current affairs of society with women, it's just a lot. You feel fed up, sometimes. I'm a mother and a woman but sometimes you get to that point, enough is enough if you will. It's like, I got something to say, and it ain't gonna to be pretty.
Ke'Ke: So, how did the connection with the Truth Band come about?
Leela James: Well, the connection with Truth Band came about through one of my producers, Rex, he connected us and thought it would be a great opportunity and idea for us to collaborate because I would like to think (humbly stated) we're are all talented artists and musicians. The whole idea was to try to do something a little to the left of what I haven't done or what people may have expected for me to do. I wanted it to be a little bit more on the art side of music and not really say, well, we got to stick to a certain format or genre. When you're an artist that loves all kind of music like myself, you just make music and sometimes it takes on a life of it's on. You don't always just go into the studio and be like today I'm going to make a song like this or a certain way; you just let it flow. You go in there and let your inner spirit speak for you and sometimes, that's where your best music and songs come out. That's what The Truth Band and I did, we collaborated. Those guys are so extremely talented, it took us just a couple of days; the music came so easy. It was an easy process, a one take type vibe with Cali weed poppin', ha-ha.
Ke'Ke: Since you've been in the industry for a while, what do you think about the state of R&B and soul?
Leela James:You have so many musicians, artists and people that are making music, I've always said you may not hear them on the radio. Now, we are living in a time where I don't think people really listen to the radio as much anymore, it's like their streaming everything, online and their on Youtube. There are so many avenues for people to be heard that there are just artists coming from out of every nook and cranny making music and I think it's a good thing. There's just not just one or two artists out there, there are several artists. I think in the past prior to all these avenues now, people are not just like, I'm just going to go balls out and do me and start releasing music. You felt really restricted if you are not played on the radio and that nobody would hear you in the past. Whereas now, there are so many routes to take, and now you're like, dang, who is this person and that person?
Ke'Ke: Are there artists you might low key listen to?
Leela James: You know what's funny, I listen to a little bit of everything, but, people are always for whatever reason surprised or taken back that I listen to a lot of trap music. I'm like, yeah I do. I'm not saying everything in the trap is good and the messages are good. Sometimes, I'm just bobbing, and then again, I'm still from South Central and I listen to a-lot of hip-hop. There are artists that like Nipsey Hussle, I don't think the world knew of him prior to his passing. In his passing, he is like 'the great' now, but, if you came up in L.A., you were already privy to how dope he was. It's like, welcome, thank ya'll, ya'll finally got here. It goes back to what I was saying, just because you're not hearing cats on the radio like every 2 seconds, don't think they are not out there. Unfortunately, it seems like it takes something like death for people to pay attention, it's like, dang, this person is not even here to receive all these flowers being given. It's definitely important to love on people while you can still give them their flowers. It's a cold world. Can you imagine what Nip might be feeling if he knew? Everybody is embracing him. The Marathon is all over the world now, and we all have a part to do to continue what he started. It's dope stuff out there. If you take artists like myself, I tend to listen to everything. I just embrace good music and I embrace the vibe and the mood. It could be a country song. There are just artists that may be bound to certain regions. I'm sure there are local legends here, in Houston, a lot of the world may not know.
Ke'Ke: What you think about Lil' Nas X?
Leela James:(As she sings "Country Road") Ha-ha, that kind of stuff is fun though. The melody is catchy, yeah. I love it thought, because at the end of the day, as black people, we've been making music since day one. We started all of this.
Leela James has a tour kicking off at the start of Summer 2019 and you don't want to miss out on the forthcoming dates.
Be sure to follow @leelajames on Facebook on Twitter, @leelajamesoffical on Instagram
Website: www.leelajames.com
Stream Link: smarturl.it/ThatWomanLeelaJames