Raheem Sterling and Gareth Southgate want action on racist abuse in Montenegro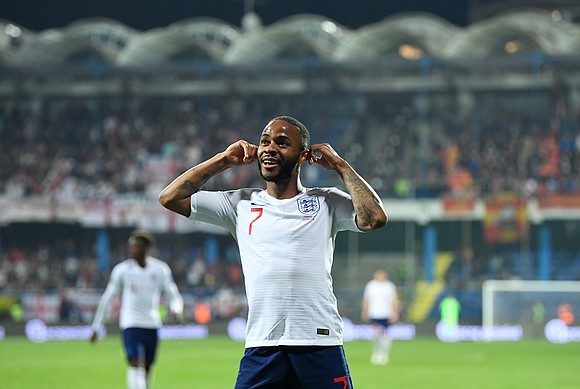 By Aimee Lewis, CNN
(CNN) -- "It's 2019. I think there should be a real punishment for this."
England star Raheem Sterling has called on football's authorities to do more to tackle racism after he and his teammates were subjected to racist abuse during England's 5-1 Euro 2020 qualifying win in Montenegro.
Racists chants were reportedly directed at a number of England players, with defender Danny Rose subjected to monkey chants towards the end of the match, when the Tottenham player was being shown a yellow card.
After scoring his country's fifth goal in a resounding win in Podgorica, Montenegro's capital, Sterling cupped his ears towards a section of the home support and later posted a picture of his celebration on Instagram with the caption: "Best way to silence the haters (yeah I mean racists)."
The Manchester City forward, who has scored six goals in his last three internationals, has said he wants football's authorities to take a "proper stance" on racism.
Speaking to Sky Sports in the mixed zone after the match, Sterling said: "All of us know what skin color we are so they're not saying anything new.
"It's 2019, I keep saying it, and it's a shame to see this keeps going on. We can only bring awareness and light to the situation. It's now time for the people in charge to put a real stamp on it. You've got to punish people a bit harder, you've gotta do something that makes them think twice.
"If you can't play in front of fans then that's going to make them think harder. Me and the FA can only do so much, we've got to leave it to the people in charge to make a proper stance on it."
Later on Tuesday, European football's governing body UEFA said it had opened disciplinary proceedings against the Football Association of Montenegro for five charges, including racist behavior, crowd disturbances, setting off of fireworks and throwing objects. The case won't be heard until May 16.
England to make official complaint
England manager Gareth Southgate described the incidents as "unacceptable" and said the Football Association, English football's governing body, would formally complain to UEFA.
"It's very sad," Southgate told reporters.
"We had an excellent performance and have an 18-year-old [Callum Hudson-Odoi] being interviewed after the game having to respond to what's happened when his evening should be about the joy of his full debut.
"I didn't hear during the early part, but I'm told there were things in the early part of the game as well. I certainly heard when Danny Rose was booked. It was clear to everybody. It's unacceptable.
"I've spoken to our players individually. We've got to support them. We will report it. That reporting is already in place because so many people in other areas of the ground heard it. I believe the UEFA delegate also heard it.