Cyclone survivors clinging to rooftops in Mozambique as they await rescue, aid officials say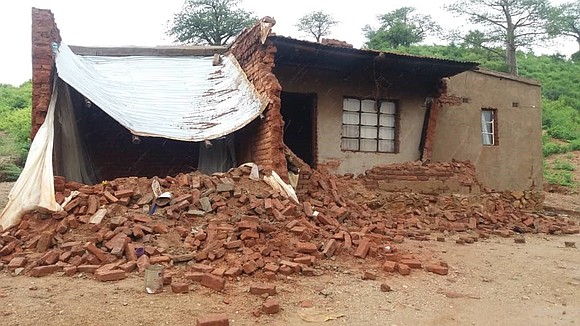 By Bukola Adebayo, Jenni Marsh, and Vasco Cotovio, CNN
(CNN) -- People in cyclone-hit areas of Mozambique are clinging desperately to rooftops in areas virtually submerged by flood water, awaiting aid and rescue, the charity Save the Children has said.
Aid workers are also racing against time to save thousands of children from becoming trapped in Buzi, a district in the country's central Sofala province that could become submerged in the next 24 hours, according to an aerial survey, the UK charity said.
The survey showed that more than 50km of land in Buzi town has been submerged after a river burst its banks in the aftermath of Cyclone Idia that has devastated three countries in southern Africa.
"Thousands of children lived in areas completely engulfed by water. In many places, no roofs or treetops are even visible above the floods. In other areas, people are clinging to rooftops desperately waiting to be rescued," said Machiel Pouw, Save the Children's response leader in Mozambique.
Fears are growing for more than 500,000 people in the Mozambique city of Beira, after aid agency officials warned that 90% of the area had been "destroyed" by Cyclone Idai.
The cyclone slammed into the southeast African country as a high-end Category 2 storm with 175 kph (110 mph winds) at midnight Thursday, causing widespread devastation, before moving inland into Zimbabwe and Malawi.
Flying metals have decapitated victims
Residents in Beira told AFP many victims were injured by the flying metal sheets from the roofs of some houses in the area.
"Flying sheets of metal decapitated people. People are very bad here, some are in hospital... we don't have any help here... it's getting bad, we're eating badly, we're sleeping badly and we don't have homes," Rajino Paulino said.
Layla George, another victim said she was sleeping on Thursday night when the roof of her house was blown away by powerful winds caused by the cyclone.
"I was inside my house, I was sleeping and I had set the bed for my daughter to sleep underneath... suddenly the roof flew away. I had locked the door and I lost the keys. We started crying for help but there was no help because it was the middle of the night and there was a lot of wind," George told AFP.
They said they have lost their houses and they have no place to stay.
In an address on national radio Monday, Mozambique President Filipe Nyusi warned that while the official death toll stood at 84, "everything indicates that we can have a record of more than 1,000 dead."
Nyusi described seeing "bodies floating" in the water after two rivers broke their banks "wiping out entire villages " and isolating others. "It's a real humanitarian disaster of large proportions," said Nyusi.
If Nyusi's estimated death toll is confirmed, Tropical Cyclone Idai would be the deadliest tropical cyclone on record to have hit southern Africa.
Medecins Sans Frontieres (MSF) said there was no power in Beira and surrounding areas, and nearly all communication lines had been destroyed.