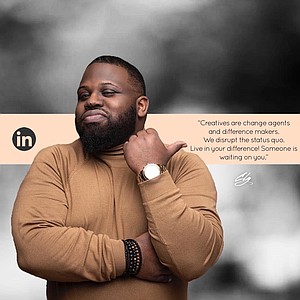 In Proverbs 18:16 KJV, it states, "A man's gift maketh room for him, and bringeth him before great men." Award-Winning Multi-instrumentalist, Pastor and Author Courtney Lloyd Grear is a living testimony of how his gifts has manifested his present into a path of amazing happenings. Grear has graced many platforms shared with political figures, and award-winning creatives as he speak into the hearts of many young and old from around the world. As a Cutting-Edge Leader, Grear stays in communication with his following through his Outpour podcast show, social media interaction and yearly Outpour Conference, "Where God and the art collides." We got a chance to have a conversation with Pastor Courtney Lloyd Grear about his creative gifts and discuss his highly anticipated book release.
Who is Courtney Grear?
Before being a pastor, I served for the last 16 years as a musician from small to large ministries. I don't know who my father on earth is, and I saw my mother once at my grandmother's funeral. Family and friends come and go, but God's image and likeliness and character of God leaves an inheritance bigger than a zip code. I'm a thinker, a creator, a student of theology. I'm not a senior pastor just yet. I love God. I love my wife. I love God's people.
What sparked your journey into the ministry?
Fun fact, I acknowledged my call when I was 12 years old. A lot of people don't know that. Back then, in the mid 90s, you had to go before the church to accept your calling. My former pastor told me, "I don't want you to think just because everyone is preaching, you have to." In 2015, I found myself laying on the table in the doctor's office to have a tumor removed. It was a very scary moment in my life. I didn't have enough flesh to close the womb. Later after the surgery, the doctor called me stating they had some skin graft to successfully transplant flesh from my leg on my head which caused me to limp. God spoke to me and said, "You're only limping because you're on the move."
Is there any advice you would give to another creative trying to find their way to success?
People always ask, "When is it my time, or my turn.." Your mission has meaning. Greater is He in you than what's on you (Reference 1 John 4:4 KJV). For example, America didn't say let's worry about the endeavors of others when it was time for Apollo 11 mission to accomplish landing on the moon. You may become discouraged when you see others using their creativity and they're taking off faster and sooner than you. Maybe they had an advantage that you didn't. But when launching out, the rocket doesn't have time to complain about where's its been planted. All it's focused on is the take off. God has given you your own mission, path, and abilities.
Do you have any forthcoming events?
Yes, on March 17, 2019 I'll be releasing my first book The Launching Pad: When Creativity Propels You Forward. The Launching Pad is the place of preparation before God launches you forward. Every person has creative ability. You were made in the image and likeness of a creative God. But what happens when the challenges of life have you stuck in a place where it seems like you can't move upward? Life may have PAUSED you but the LORD is PREPARING you. In the meantime, keep using your gift. It'll make room. The Launching Pad is available for pre-order today.
Follow @CourtneyGrear on Youtube, Facebook, Instagram