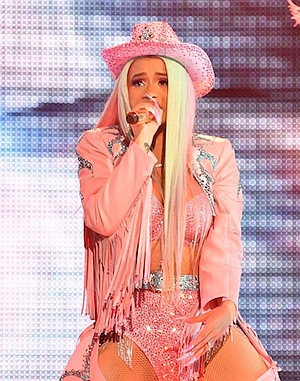 On Friday, March 1, 2019, around 5:00 pm lines began to grow at the entrance gate into the NRG Stadium, and it was pretty evident Bardi Gang was there in full effect. For over 80 years, Houston Livestock Show and Rodeo has contributed in raising funds to provide educational scholarships to over 19,000 students with over $14 million awarded. The Houston Rodeo is the engine behind bringing together some of the largest crowds this city has ever seen through entertainment performances, various agriculture exhibits and embracing Western heritage. Last year, Rodeo Houston brought Fort Worth native and Soul-Singer Leon Bridges to the stage for Black Heritage Night where his smooth voice filled the stadium with heartfelt tunes. This year, Cardi B took to the rotating stage for the first time in spite of the 15,000 individuals who signed the Care2 Petition urging the superstar to not perform due to hearsay about animals being mistreated.
If concert-goers arrived early to truly experience the full Houston Live Stock Show and Rodeo, they had a chance to see the exciting tradition of the Calf Scramble, Bareback and Saddle Bronc Riding, Mutton Bustin' and so much more sponsored by Kroger. Long-time Rodeo Houston board member and Rancher Ernie Collins, Representative Sheila Jackson Lee, Mayor Sylvester Turner including Houston councilmembers triumphantly rode in on horses and some were in wagons. It wouldn't have been a traditional Black Heritage Night if we didn't see Pro Rodeo Hall of Fame (2018) and Rodeo Houston Legend Luke 'Leon' Coffee in his famous clown attire as well. There were a lot of fans, like, a lot-a lot who came in Bardi Gang fashion, literally; vibrant neon colors and ready to dance attire. When the last time you dressed up for a concert with your best- friend? The Grammy-Award winning rapper made sure the stage was, "Drip, Drip", dripping in money gold, "Ice." The anticipation before she blazed the stage was already high, but when her DJ started with Houston's own Travis Scott featuring Drake 'Sicko Mode', the crowd went bananas. It turned into club rodeo. Everybody was on their feet dancing, from Daddy Yankee ("Gasolina", "Boricua Morena") to all the club bangers you could think of from past to present.
When Cardi made her grand appearance, you couldn't see an empty seat and the lights from phones held high lit the building in true rodeo night fashion. Cardi B gave us all of her, in rare form, from her classic comical personality to her dance moves (I think the camera guys were challenged to keep it PG on the screen, ha-ha). Imagine over 75,580 people chanting 'Bodak Yellow' and 'Ring' while trying to focus on how in-tune her background dancers were to each down beat of the song.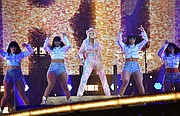 Cardi B thanked her fans for their support which has allowed her the opportunity to give Kulture (daughter) a lifestyle she did not have growing up. From the streets of the Bronx, NY to reality TV, she spoke on how some people through her journey thought she was going to be a one hit wonder- seven Grammy award nominations, a win, and several broken records, here we are. When her new joint "Please Me" with Bruno Mars came on (pause) you just had to have been there; it was so much energy that transpired from the stage. Bacardi' sultry rodeo attired was a glitzy pink and blue it had some similarities to the one in 'Thotiana' video.
The Trap Selena paid homage backstage to the Queen of Tejano stating she helped her through the performance and sings a snippet of 'Como La Flor'. The recognition of diversity at Rodeo Houston shows how talented we are as a human race and acknowledges how far we have come.
It was announced in the NRG stadium while everyone was leaving that Cardi B broke Garth Brooks' paid rodeo and concert record, by three people. Brooks had 75, 577 and Cardi had 75,580. Cardi B is the record holder for paid rodeo attendance. Do you think Rodeo Houston should bring Cardi B back for a second round?
For more information on the Houston Livestock Show and Rodeo, please visit: