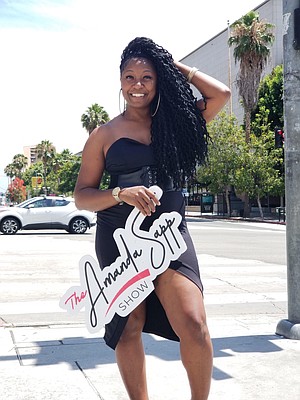 It's more than just elevating in her career, it's about setting the bar for a new media wave in Houston and platforming the city. Known for her vivacious at various events and the voice of The Amazing 102.5 FM powered by The Bread Of Life, Inc. Amanda Sapp is a momentous force to be reckoned with in broadcasting. As a Radio Host, TV Personality and Event Host, you can catch Amanda Sapp providing media coverage in various areas of the Houston community from music, sports, fashion, community and beyond. The bright-spirited host has won various awards from being named Media Personality of The Year by Broadcast Houston- 2018 and receiving the 40 Under 40 Award- 2017. The McNeese State alumna has interviewed J. Prince, Willie D. , iheartmemphis ("Hit The Quan"), Lil' Flip, Actor James Bland, Lydia Harris (The Real Cookie Lyon) and many other. Well, it's her turn to be in the seat and we take the mic on asking the questions as we talk about her life in radio.
How did The New Amazing 102.5 FM journey begin for you?
I started at KPFT with my ex-husband, in partnership, it was Money Gang Radio. I think through my trial I got my triumph. Most people I've encountered have been super supportive like radio industry trailblazzers Marus Sullivan (93.7 The Beat) & Radio Boss Hard Body Kiotti (97.9 The Box); I'm appreciative. On The Amanda Sapp Show, we bring in artists and businesses that are making an impact in their community. After the interviews are over on each show, my goal is for viewers and followers to be empowered and want to be like the guests they just heard. We are trying to change the way people see and hear radio. We need people to be enthused. We want this platform to be looked at as a resource for a person.
Who motivates and inspire you?
Angela Rye, Charlamagne The God, Catherine Flowers (CEO of Bread of Life, Inc.), and legendary musical producer Crazy Cee.
Can you recall an interview or two that has truly been pivotal for you?
When I interviewed J. Prince he spoke on some of his experiences in entertainment and discussed the importance of making sure you have a spiritual relationship with God. The rap mogul quoted a prayer that he hadn't spoken out loud to anyone but two times and that was 30 years ago! A few words that stood out to me the most in his prayer was, "Lord be merciful to me...... Lord help me to do thy will." That moment was profound. I had an opportunity to interview British soul singer-songwriter Daley who has worked with Marsha Ambrosius, Jill Scott, and Gorillaz to name a few. He spoke on the sudden passing of his manager and how he got inspired to fuel life into a new project. These experiences exude what my show is about, I want guests to feel good when they come on the show and to feel compelled to be their complete selves.
What can we expect in the near future for The Amanda Sapp brand?
The Amanda Sapp Show has expanded from Tuesdays to Monday through Friday from 5pm-6pm. Alongside me are my co-hosts award-winning entrepreneur Marcus Bowers (She's Happy Hair), Comedian GrossMan and DJ StarrSkyWalka. I also have two events that are recurrent every year, Small Spaces Concert Series (Asapp Productions) for the month of March we are featuring Neo Soul Artist Soleil Soleil X (March 14, 2019 at 8pm) and Gospel at the Gallery (dates coming soon).

Do you have any advice for those who aspire to be in radio?
Use free resources around you. There are tools that you can research online to help you hone your craft. Take advantage of those tools. The fact, I am always out and always present, is what has brought me opportunity; make yourself available. Followers follow consistency. Be sure to provide quality content. Start now, the moment is only for what it is. When the moment is gone it's gone.
Be sure to catch The Amanda Sapp on "Your Do Good, Through Good" station, the All-New Amazing 102.5 FM Monday through Friday (weekly) from 5pm to 6pm. The award-winning radio host is taking things up a notch by giving her fans more of her, visually, on her newest platform Eyeconic Television digital channel 15.10.
Instagram
Facebook
Be sure to follow The Amanda Sapp Show on Youtube
behindthemic
smallspacesconcert