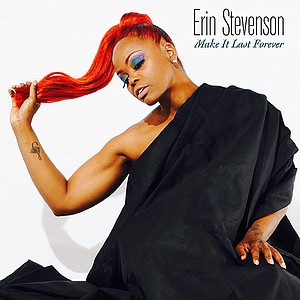 When it comes to the lively Houston R&B/Soul scene, Erin Stevenson is no stranger; rocking the livest clubs and performance venues in the city. As one of the original members of the tween group, Girl's Tyme, alongside Beyoncé and Kelly Rowland, Stevenson continues to make her mark in the music entertainment industry. This soul superstar has traveled all over the world singing with music icons such as Duran Duran, Jennifer Lopez, Justin Timberlake, John Legend, Nicki Minaj, Pharrell Williams, Ciara, Rihanna, and Janet Jackson, and many more. With an already impressive resume, Stevenson is back with her hot new single paired with visuals that are funky and fierce! Stevenson's version of Keith Sweat's "Make It Last Forever" has an addictive vibe that is sure to please any R&B aficionado.
From her high energy, stylish garb and bold tresses, to the sound of her upbeat lyrics that embody her dynamic experiences throughout the entire track, this song is radio ready, just in time for summer! We don't get to hear about the journey of professional musicians and background vocalists often, who can be best described as an engine behind major artists across the globe. Houston Style got a chance to catch up with Mrs. Erin Stevenson-Titus in an interview earlier this week.
Houston Style Magazine: I know this might be a cliché question to ask, but, your experience and professionalism with the cream of the crop in music entertainment has lead me to this question. Who are your musical influences?
Erin Stevenson: I love Tina Turner, Michael Jackson, Janet Jackson, Whitney Houston and Tina Marie. Although I've had a chance to perform with some of the top modern day greats, I'm an old school type of woman. I enjoy crossover type of artists as well.
HSM: When did you know you were destined to be in music entertainment?
ES: My journey started sometime before I reached the age of 10. I use to clown and joke a lot singing at family crawfish boils & fish-frys and my uncle use to make me sing "Greatest love" of all by Whitney Houston. The way my family would react, everyone knew I was on to something. An opportunity to audition and be a part of Girl's Tyme came about but I ended up leaving with a contract in my hand because I felt like I had my whole life ahead of me and didn't want to limit any possibilities and avenues. I graduated from Willowridge High School and began to study Communications and Marketing at Prairie View A&M University. I was all over the place. I was a Black Fox Dancer and apart of different organizations; I had full college experience. There was one point, I thought I wasn't going to finish and I got in my car and drove back home. My grandmother thought I was out-of-my-mind, ha-ha. My dad and grandmother both agreed I needed to finish, so I went back. Upon graduation, I worked for Sparklett Water doing door-to-door sales and made Top 10 in the country within 3 months. Shortly thereafter, I was hired to work for Nasa, which was good experience and money, but, I woke up one morning like, Erin, you tripping... I was living a cool life but not a great and purposeful life. I began to perform around the city opening up for R. Kelly, Jamie Foxx, and many other well-known acts until I landed one of my greatest breaks singing back-up for Janet Jackson in 2005.
HSM: Is there anything about Janet Jackson you didn't know until working with her?
ES: I really didn't know she was that shy, a lot of people fake things for their image and Janet is the sweetest, loving & most giving person I know. Even if she is mad, it doesn't sound like it. She is really-really super sweet and one of the hardest working women I ever met in my life.
HSM: How often do you rehearse for Metamorphosis?
ES: A typical day could range from 8-14 hour days. There is so much that goes into making an epic elaborate production from high-end visuals, sound and even custom stage props. [Everybody is honing day in and day out to make sure the show runs smoothly]
HSM: How would you describe your style?
ES: I always say if I could put two people together it would be Grace Jones & Diana Ross. What a lot of people don't know is, I'm a tomboy, I enjoy my shirt and jeans, but I can wear the hell out some heels. I discover a lot of my finds at the thrift stores. Between my husband [who is a costume designer] & I we can pull some outfits together.
HSM: What event in your life brought you to your hit single, "Make It Last Forever"?
ES: I've been married going on 4 years now and in this particular song, I feel like people were not telling the truth about marriage. This is my take on Keith Sweat's "Make It Last Forever". It's not all roses, like, oh, I'm blissfully happy all the time. It takes effort, compromise and selflessness. Once you can manage all those things it's a beautiful things.
HSM: What is it like having a relationship while being in music entertainment, which is known for keeping a sporadic schedule, etc.?
ES: My husband thought I was stripper when we first met, ha-ha, because I wouldn't tell him much about my work. Instead of him walking away, he would ask how could he help or get involved to make things easier on me especially because I'm so busy. I'm so happy I waited for someone like him.
HSM: Can we expect an album soon?
ES: I plan to drop an EP/Album before the end of the year. I already have the title and the entire project is complete.
HSM: What are some lessons you've learned about music entertainment or even about yourself working alongside music icons?
ES: I really found out that I'm stronger & tougher than what I thought. Being in this industry is not for the faint at heart, it takes a lot of sacrifices and hard work. It's not talent, it's work ethic; it's everything. So for me, what I've taken away from dancing, sometimes becoming hoarse, and being very tired, is that I keep pushing.
Stevenson is currently singing with Janet Jackson during her MGM Las Vegas residency-Metamorphosis, which began on May 17, 2019, and concludes on August 17, 2019.
Be sure to stream the soul superstar's music across all major platforms and check out her new music video on Youtube!
Follow @erinstevensonmusic via Facebook.
@erinstevenson on Instagram and Youtube.
For appearances, music and more, visit: www.erinstevensonmusic.com