The Champ Has Returned
WBC Middleweight Champion Jermall Charlo returns home for title fight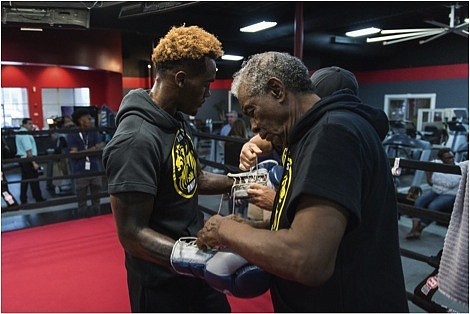 The energy and excitement of the Kinetix Fitness Center was felt immediately upon entering its doors. Music blaring amongst the loud chatter, I just knew something special was going but it wasn't until the crowd disbursed that finally, right there sitting in the center of the circle, was none other than the unbeaten Interim WBC Middleweight Champion Jermall Charlo; the man responsible for all of the enthusiastic presence inside of Kinetix.
Honestly, all that was missing was someone yelling out loud, "The champ is here."
Charlo, (28-0, 21 KOs) who will be fighting for the first time this year, will put his title on the line in front of his Houston hometown fans at NRG Arena against Brandon Adams, (21-2, 13 KOs) on Saturday, June 29, 2019. The fight is billed as the main event and will be broadcasted live broadcasted on Showtime. Charlo last fought in Houston in 2012 in just his ninth professional fight.
"It's an amazing feeling to be fighting in Houston. A lot of people think the pressure is on me, but the pressure is just there period. I'm ready to fight in Houston," said Charlo as he spoke to reporters.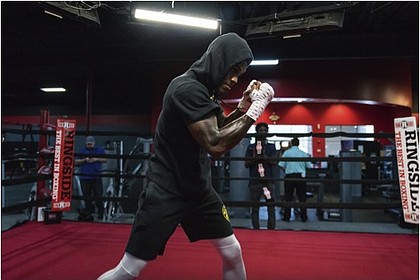 Charlo became the interim champ back in April of 2018 by knocking out Hugo Centeno Jr. He then went on to successfully defend his title by defeating Matt Korobov by a unanimous decision in December of the same year. Some have regarded the twin brother of Jermell as one of the best punchers in boxing and he has no problem letting the world know it.
"The division is mine as long as I continue to do what I'm doing. I'm in a good place. I'm a force to be reckoned with in the 160-pound division," Charlo said.
The opponent for Saturday night's main event, Brandon Adams, is no stranger to the boxing world; however, it has been a while since he last laced up his gloves. His last fight was in November 2018, where he gained a unanimous decision over Shane Mosley, Jr. in the final episode of "The Contender, Season 5" on EPIX. That win helped him gain a top ten WBA world rating and an opportunity to fight Charlo.
"I feel this opportunity is the biggest one in my career to this point," said Adams. "This will set me up for much more, and I am ready to face the challenge. I couldn't be more prepared or focused. I am very dedicated to this fight and everything it's going to take to reach my dream. I am looking to put on a tremendous performance on June 29," said Adams.
Charlo is hoping that this fight will heighten him for future opportunities. Although he is highly regarded amongst his peers, there have been conflicts regarding television networks that have prevented him from gaining a bigger match. Under the PBC banner, his fights air on either Fox Network or Showtime. While larger names in the middleweight division such as Daniel Jacobs, Gennadiy Golovkin and Canelo Alverez are all on DAZN.
As the champ wrapped up his pre-workout media session, he wanted to make sure that we relayed a message to all the fans in Houston.
"I'm happy to be in my home city, I'm happy to be fighting in front of Houstonians and giving them another world champion. We haven't had one since the George Foreman days, so now it's a new era of boxing and I want to be the face of it," Charlo reiterates as he heads over to talk with world renown trainer Ronnie Shields.