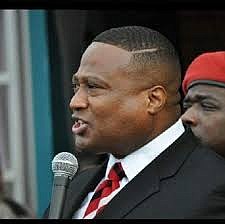 May 10, 2019, was also the first time Quanell X (born Quanell Ralph Evans) was associated with the case when he held a press conference speaking on behalf of Maleah's mother. Quanell X employs a somewhat local "celebrity status" here in Houston, having a public persona which has landed him a role on the Fox 26 segment 'Faceoff' where he appears opposite normally more conservative pundits who challenge him on his views regarding various issues. In the news conference, Quanell gave details that were not then publicly known of the police investigation and also provided information which he said was shared with him by Maleah's mother. He claimed Maleah's disappearance may have had something to do with a confrontation the mother had with Vence over a homosexual affair she accused him of having. He also hinted to previous incidents of abuse of Maleah by Vence. The very next day, Vence was arrested and charged with felony tampering with evidence, namely a corpse, and held on a $1 million bond. Although investigators did not believe that Maleah was still alive, Vence was not charged with a homicide.

At that point, I was as anxious as anyone for someone to be brought to justice for what looked more like a homicide by the day. As an attorney, albeit not criminal defense, and despite my anxiety, I recognized the difficulty prosecutors would face in proving a homicide without Maleah's body, Vence's cooperation or any other solid circumstantial evidence to prove their case beyond a reasonable doubt. Because, in most states including Texas, homicide cases not only require proof of the act (an unlawful killing) but also proof of some culpable mental state (i.e. intent, negligence, or recklessness) and a causal connection between the act and the effect (i.e. something the accused did or didn't do that actually caused the death). In this case, at the time of Vence's arrest, without Maleah's body to tell the story of her demise and with him not talking, prosecutors certainly could not make a case for murder which requires intent to cause serious bodily injury or death. And even a manslaughter case at that point seemed tenuous even though they would not have to meet the burden of proving intent.


By May 23, 2019, Houston Police Chief Art Acevedo updated the public on the case's status, stating in his address, "We really believe we have a little girl that's been murdered. We believe that she's out there somewhere, and we want to bring her home." He also said that Maleah's family had been uncooperative. By that time, the case had garnered national attention and $20,000 in reward money, but still had no leads as to Maleah's whereabouts. Nothing more was heard of the case until May 28, 2019, when Quanell X resurfaced with breaking news that he would no longer be "representing" Maleah's mother. The events that led to the termination of the relationship are disputed but each accuses the other of lying about details of the case. On May 30, 2019 Vence's counsel withdrew his representation for nonpayment and the court appointed him a new attorney. Also, Crime Stoppers of Houston increased their contribution to the reward money bringing the total to $27,500. The very next day, Quanell X held another press conference. This time, he alleged to have gotten a confession from Vence including the whereabouts of Maleah.