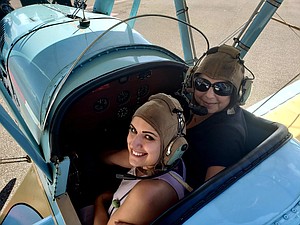 More thrills? Take a short drive on to Albert Whitted Airport and book a one-of-a kind bi-plane tour. This thrilling ride in the sky will give you a birds eye view from a 1929 Travel Air open cockpit airplane originally owned by William Randolph Hearst (how cool is that?). This was my absolute favorite thing to do in St. Pete and yes, I got to cross another "must-do" off of my bucket list. So now that I am an expert and have crowned myself today's unofficial Amelia Earheart, I am definitely recommending that this be your adventurous vacation getaway splurge. (Check out the picture of me and my "excellent adventure" pal, Ted.)
After all this exciting adventure, did someone say hungry?
If bicycling is your choice of adventure for the day, plan to have lunch at Bodega on Central. Although the line might be slightly long, do not let it discourage you; these street- style Cuban sandwiches are definitely worth the wait! The Lechon (Cuban style roast pork, garlic mojo, and grilled onions) is my recommendation. And make sure to wash down all that deliciousness with a soda fresca (fresh-squeezed fruit, herbs, spices, Florida can sugar and Pinellas seltzer). And no worries – there's also a delicious sandwich for vegetarians!
A super chic and fun lunch spot, if you're in the mood for good wine or even great local beer to pair with light bites is Lolita's Wine Market. The charcuterie-centric menu offers an array of tasty nibbles that about 22 accoutrement options along with other small plates and signature dessert "jars" such as the the triple chocolate decadence with dulce de leche,
For evening dining, Alesia and ILRitorno are highly recommended by me, your professional foodie! (Have I ever let you down?)
Alesia's cozy outdoor dining area is the perfect setting for a romantic evening or even a girl's night out offering a beautifully lit backdrop for amazing photo ops. But let's not let the charming courtyard take away from the fact that Alesia's "French meets Vietnamese" cuisine is superbly delicious. My dining partners ranged from carnivores to vegans and the menu did not disappoint; offering an array of options for every appetite. My recommendation: French Onion Soup, Summer Rolls, and Phở.
IL Ritorno is not just dining; it is an experience that will tantalize all of your tastebuds with every bite! By far, this has been one of my favorite foodie experiences and I honestly cannot wait to return (as the establishment's name suggests). In all honesty, the entire menu was completely satisfactory so you might want to splurge a little and opt for the Chef's 5-Course Tasting (well worth it). However, if you do decide to order off the menu, start with the Charred Octopus and follow with the Short Rib Mezzzluna. And for the love of everything, please end your meal with the Olive Oil Lemon Cake. (I saved the picture of me eating this deliciousness and dream about this dessert often. Please someone go to this restaurant and bring me back an entire sheet pan of this cake!)
So now that I have done the hard work of adventuring and eating for you (such a hard job!), what are you waiting for? St. Pete/Clearwater offers the perfect and budget-friendly alternative to Orlando and even Miami. At this vacation destination, you get the beautiful beaches, daytime adventure and sight-seeing, top dining, and a whole lot of fun.
Experience the sunshine. Experience the beaches. Be the adventure!