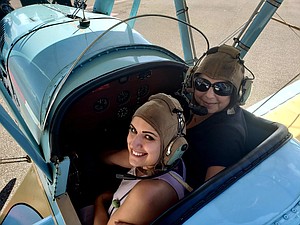 Get ready, set, pack! It's summertime in Houston and most of us (if not all of us) are searching for the perfect beach destination to escape this Houston heat. (Please take me with you!)
If you've been following Houston Style's latest Florida travel escapade, the adventurous journey has taken us swimming with the manatees in Crystal River, where we got up close and personal with the adorable "sea cows". We canoed the Chassahowitzka River and Seven Sisters Springs and got super bold by freestyle cave diving! But the fun in the sun adventure doesn't end there; our next stop is the beautiful St. Pete/Clearwater.

Flying directly into Tampa offers the perfect for any adventure-seeking enthusiast. While Crystal River and Tampa Bay are definitely great vacation destinations for the family, my recommendation for a much-needed adult getaway with great restaurants, pristine beaches, and tons of adventure would be St. Pete/Clearwater.
Lodging
Described as "retro surfer- chic", the Post Card Inn is the perfect lodging spot if you're wanting day time pool side fun, lively evenings filled with music, beach bar cocktails, and perhaps even wedding watching on the courtyard. (Yes, there was an actual wedding right outside my hotel room door front. Yes, I crashed it. Yes, I danced all night!) And if some serious daytime rest and relaxation after a night of dancing (don't judge me!) is needed, the beach is just footsteps away. Trust me, make sure you experience at least one sunset on the beach.
www.postcardinn.com
Looking to experience upscale accommodations with a whole lot of plush? Then, the historic Don CeSar Hotel is your destination for a luxurious hotel experience.

Known for its friendly "Old World" service and once a favorite of legends such as F. Scott and Zelda Fitzgerald and Babe Ruth, the iconic "Pink Palace', one of the most recognizable landmarks on the Gulf Coast, boasts newly redesigned 277 rooms including 36 suites, many with spectacular views of the pristine Gulf beaches or Boca Ciega Bay.
Dining and Attractions
After checking in to your hotel of choice, it's time for some sight seeing fun! The Pedego Bike Mural Tour is a perfect way to map out the places you want to dine, shop, and visit while exploring the many murals in the downtown area.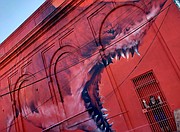 With the electric bikes offered at Pedego, (less pedaling, more wind in your face!) you can easily cover lots of ground, while getting up close and personal and somewhat interactive with the murals of St. Pete's vivid outdoor gallery. (Check out my Jaws reenactment. I should win an Oscar!)
For thrill seekers (like me), you can make your Miami Vice dreams come true by booking a speed boat adventure with Tampa Speed Boat Adventures. This guided and narrated 13-mile tour is filled with tons of sights to see including National Wildlife Refuges and the Sunshine Skyway Bridge. Narrated through a speaker system mounted in your boat will help keep you right on track while you're trying to reenact all the stunts you've seen in all the movies. (I was a bit nervous at first, but about 5 minutes in I just knew that I was the #1 speed boat driver in the entire world.)