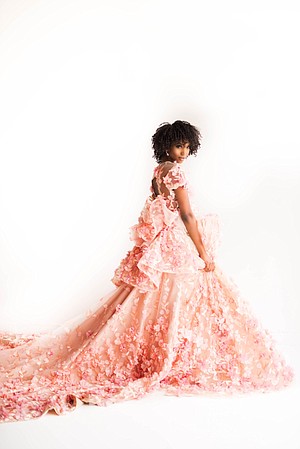 HOUSTON (July 02, 2019) - Local fashion designer, Chasity Sereal is releasing her anticipated bridal collection for the non-traditional bride at her first ever, solo bridal show, entitled Enchanted Botanicals on Sunday, July 28th from 6 p.m. - 9 p.m. at The Space, located at 2005 Commerce Street, Houston, Texas 77002. Sereal has graced the runways of New York Fashion Week and is giving Houston a 30-piece collection filled with textured lace, bold colors, and eccentric designs for the bride who dares to make a statement on her wedding day.
Brides-to-be are trading in the conventional ivory, a-line dresses for more colorful, textured jumpsuits and gowns. These wedding-worthy pieces make memorable fashion statements and in some cases, go viral on social media for their unique and custom made garments.
"A new wave of brides, mostly made up of millennials, are migrating towards non-traditional wedding designs," said Fashion Designer Chasity Sereal. " They want to create their own traditions filled with color, elaborate fabric and one-of-a-kind designs that include jumpsuits instead of dresses."
From wedding-inspired decor to signature cocktails and hors d'oeuvres guest will have the ultimate Chasity Sereal experience. There will be an exclusive presentation of models in gowns that will only be shown during the first hour of the event for VIP guests. A portion of the proceeds will go to a Houston-based, non-profit organization, Purple Out, that helps aging-out foster kids transition back into society.

To learn more about Chasity Sereal, visit the designer's website at www.Chasitysereal.com.