Originally published 1/18/2019 at 04:55p.m., updated 1/28/2019 at 05:22p.m.
Now that the hustle and bustle of the holiday season is over, it's time to start planning this year's vacation getaways. For some, an international destination might be an option but for others on a more limited budget, domestic travel is the way to go in 2019.

For many reasons, Texans love a Florida vacation; after all, it is a great destination boasting of beautiful beaches and one-of-a-kind theme parks. In addition, a road trip to Florida is preferred over the price of a plane ride, especially for those traveling with a large family. And when we think of adventure in Florida, Orlando's Disney immediately comes to mind. However, what if I told you that Florida offers another city with just as much adventure, better dining options, and budget-friendly lodging?
Just a little over an hour from Orlando awaits your next venture - sunny Tampa Bay. Filled with both adult and children friendly activities, this city is the perfect destination hub for outdoor adventure, top-dining experiences, and affordable lodging. Additionally, what makes staying in Tampa even better is that many popular tourist sites are just a short drive away. Furthermore, flying into Tampa Bay airport is a no hassle experience.
The Adventure:
Busch Gardens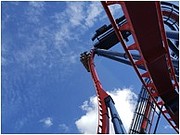 Whether you're a roller coaster enthusiast or not, Busch Gardens is a must!
This beautifully landscaped theme park delivers thrilling rides like the Cheetah Hunt with a take off launch that accelerates to a top speed of 60 miles per hour, interactive and educational animal exhibits (ranking as one of the largest zoos in the country), tons of dining options for even the pickiest of eaters and a beer garden for those that like to sip, sit back and relax after a long day of reliving your youth on all of the exhilarating rides.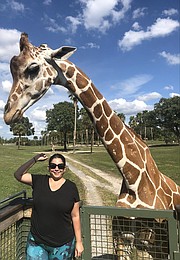 While the Cheetah Hunt was my favorite ride, my most memorable experience at Busch was the Serengeti Safari. The 65- acre plain attraction, reminiscent of the real Serengeti of Tanzania and Kenya, is a don't miss for both children and adults (honestly, I don't even remember any children being there – I was too excited for myself.)
Yes, I fed the giraffes. Yes, I'm sure I took my turn before some of the children. Yes, I would do it again.
The Florida Aquarium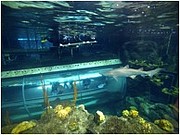 Being in full adventure mode, the Florida Aquarium was next on my list. This aquarium is touted as one of the top aquariums in the country with it being described as "where education meets entertainment and even a shark swim for the true adventurist!" Wait, did you say shark swim? This was a trip of many firsts, so of course, a swim in the shark tank had to happen. (If I had to do it, so do you!)
(We will shortly return to the shark swim but first, let me tell you about all of the other fun exhibits the aquarium has to offer.)
From the Wetland spiral dome where free flying birds soar to the Wetlands Trail, which includes alligators and pythons, to the polar bear and penguin exhibits, the aquarium is about a 3-hour experience. If you are vacationing with children, allow for extra time for the kiddos to explore the 2-acre outdoor zone that includes a waterslide and geysers.