Kamala Harris Issues Call to Action Against Trump in New Memoir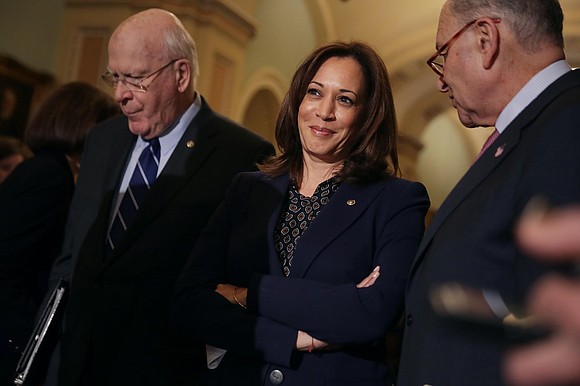 By Maeve Reston, CNN/StyleMagazine.com
Sen. Kamala Harris' unique biography and unlikely political ascent might have been summed up best by a political strategist who incorrectly predicted her defeat in the 2010 California attorney general's race.
"There was no way I could win," Harris writes in her new memoir, recalling the strategist's stinging words, "because I was 'a woman running for attorney general, a woman who is a minority, a woman who is a minority who is anti-death penalty who is DA of wacky San Francisco.' Old stereotypes die hard."
Harris did win that race (barely) and is now poised for another steep and daunting climb -- this time a potential quest for the Democratic presidential nomination in what might become the most diverse and seasoned field of presidential candidates in the party's history.
In a twist of fate, what one strategist viewed as her vulnerabilities -- her gender, her race and the interrogation skills she developed as a prosecutor -- may now be what sets her apart in the 2020 crowd.
The California senator's memoir published Tuesday, "The Truths We Hold," lays the groundwork by chronicling Harris' journey as the daughter of immigrants from India and Jamaica who grew up with a "stroller-eye" view of the civil rights movement and was educated in the black intellectual circles of Oakland and Berkeley in the 1960s and early 1970s.
The book is a rallying cry against what Harris views as the un-American policies of the Trump administration, alongside her set of policy alternatives. She casts herself as a champion for everyday Americans against the powerful, and she is unsparing in her disdain for the policies of President Donald Trump. She notes that after her own victory speech in 2016, she watched the returns with her husband in a state of shock, eating "an entire family-size bag of classic Doritos. Didn't share a single chip."
"I did know this: one campaign was over but another was about to begin," Harris writes. "This time, a battle for the soul of our nation."
"In the years since," she continues, "we've seen an administration align itself with white supremacists at home and cozy up to dictators abroad; rip babies from their mothers' arms in grotesque violation of their human rights; give corporations and the wealthy huge tax cuts while ignoring the middle class; derail our fight against climate change; sabotage health care and imperil a woman's right to control her own body; all while lashing out at seemingly everything and everyone, including the very idea of a free and independent press. We're better than this."
The memoir is also her most personal account to date of her exploration of her own heritage, her path to becoming a "progressive prosecutor" and her brushes with sexism as a woman in the male-dominated spheres of law and politics.
She launched a media blitz Tuesday with appearances on ABC's "Good Morning America" and "The View," followed by a late night interview later this week with CBS' Stephen Colbert and a series of talks about her book in Washington D.C., New York, San Francisco and Los Angeles. Her announcement about a presidential run is expected toward the end of this month.