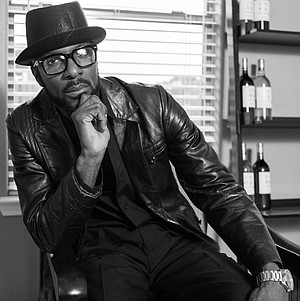 On January 18th, 2019, host and producer Dawan Cuttone will get his start featuring emerging new authors, music artists, fashion designers, poets, models, actors, activists and much more in Houston. Originally from the home of Motown Records, Detroit, MI, Cuttone has a musical background as a hip-hop and R&B artist giving his own unique approach to the art form with jams like "On & On" and "Let It Flow". From Michigan, California and on to Texas, Cuttone has invested his skills and talents in building a fresh palette to detect some of the most artistic individuals this world has ever seen. Dawan Cuttone LIVE! will feature Jonathan Hollands, former NFL Star Wide Receiver of the Oakland Raiders and now Fitness Trainer and CEO/Founder of Hollands Hard Bodies. The inaugural show will feature Dominique Monroe, Actress/Model who has been featured in several major films and videos with top industry such as Fat Joe, Future, Nipsey Hussle and other well-known R&B and Hip-Hop artists. Also gracing the stage will be fashion designer Kisa Williams of Kisa Kisa designer handbags and her incredibly inspirational story. The night will include the thought-provoking lyrics of Hip-Hop artist Y-Stress as he takes us on a lyrical journey.
We got a chance to have a sit-down with Cuttone to discuss his plans with the talk show and much more.
Style: Who is Dawan Cuttone?
Dawan: Dawan Cuttone is an artist, producer, and talk show host who has developed a platform to exhibit other creative individuals in the entertainment industry and more. In my heart, I've always wanted to help people, and I couldn't think of any better way than to give them the opportunity that I wish someone would have given me.
Style: What fuels your drive to create a platform for creative people?
Dawan: I believe that there are many undiscovered talents out there that need an opportunity to be seen or heard and my goal is to create a spotlight for these individuals. Our show is about finding those diamonds in the rough that may have not been discovered otherwise.
Style: Who are some of your influences as a Host and Producer?
Dawan: As a host, The Arsenio Hall Show and The Soul Train. I'm culturally aware that minorities don't get the same opportunities to display their talents, and these shows were pioneers that made a special point to be inclusive to upcoming artists and entertainers. Secondly, as a producer, I'll give that credit to Quincy Jones. His creativity and production behind two of the greatest talents of all time, Michael Jackson and Frank Sinatra, inspires me to dream bigger!
Style: If you could get anyone to grace the stage on your show, who would it be?
Dawan: Easy. Barack Obama. No question he is by far the most influential person of my lifetime. And he would be a great interview because his wit, his humor, and his humility is unmatched.
Style: What differentiates Dawan Cuttone LIVE! from many other day and nighttime talk shows?
Dawan: What makes our show different is that we will focus mainly on undiscovered talent that's poised to break out. From time to time we'll have established guests, but our primary focus will be rising stars in every industry. The show is about the journey. We hope to inspire people by having guests who have made it who can share their stories with those who aspire to get the next level.
Style: As a media personality, what is your stance on desensitization of adult content for kids in today's society? Will your show be appropriate for kids to attend?
Dawan: Our show will be appropriate for all ages because I feel it is very important that we create positive role models for our children and combat negative stereotypes perpetuated by mainstream media. We need to see more positive black & brown men and women doing positive things in their communities. This show is designed to be the template of what we can do together if we care, not only about ourselves but also about the image we want to imprint on the minds of our impressionable youth.
Where do you see Dawan Cuttone LIVE in two years?
Dawan: I would love to get picked up by a cable network to reach more viewers on a nightly or weekly basis. Aside from that, I would love for our YouTube channel to surpass 1 million subscribers.
Viewers will be able to catch the pre-recorded episodes on YouTube, be sure to subscribe to Dawan Cuttone LIVE!
Interested in attending or being apart of the show? Follow host and producer Dawan Cuttone on Instagram, Facebook and Twitter @dawancuttone
Use hashtags #dawancuttonelive #1dawancuttone to join the conversation