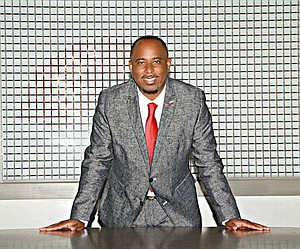 "Give a man a fish and you feed him for a day. Teach him how to fish and you feed him for a lifetime" -Chinese Philosopher Lao Tzu, founder of Taoism
In Matthew 4:19 (KJV), Jesus says, "And he saith unto them, Follow me, and I will make you fishers of men."
Joshua (originally: Hoshea), means "to save" and there is no coincidence that Pastor Scott plays many important roles in the Houston community. Executive Director of A.P.C., Inc., C.E.O. of Scott Global, Pastor of Humble Praise Center, Philanthropist, father, and husband, these are the many hats Scott fill on a day-to-day basis. Hailing from the Northeast Side of Houston, Texas, Homestead and Tidwell area to be exact, a young Joshua experienced what it means to be raised in the rough streets. At an early age he received vision that there was more to life as he grew a desire to achieve a powerful greatness. Inspired by his 5th Grade teacher Ms. Rosiland Chew, Joshua knew that college was the next step.
In 2004, Joshua Graduated with a degree in Philosophy and Religion at Morehouse College in Atlanta, GA where he then received the "Most Outstanding Senior Award" in his department. It was in downtown Atlanta where his epiphany on life would change him forever. Joshua stated, "When I went to Georgia Tech with some friends to study, while we were down there, we decided to get some food at The Underground [a lot of homelessness]. [He observed] Nobody was giving money or food to those who passed by in need and when someone dropped Popeyes in the trash can, a homeless guy began to eat the mashed potatoes with his feet."
Educating and feeding the community spiritually, mentally and physically became apart of Joshua's mission. For over 12 years now, his organization, The Association for the People and Community (A.P.C., Inc.) a non-profit 501 (c) (3) organization has served across Texas to provide tutorials, enrichment, and social services. He even mentioned as Executive Director, Joshua has overseen initiatives such as Get Out and Vote Campaigns (rides to polls and give out water), Thanksgiving Food Drives and Christmas Toy Drives collectively assisting thousands in his community. It's about leaving legacy and a positive impression on every person who receives their services offer enrichment. Scott provides college discovery courses empowering students to achieve at all cost in the greater Houston area and surrounding communities such as, East Houston, North Forest, Aldine, Humble, Channelview, Galena Park. Scott created 10 Things that every student should hear before walking across the stage and binded it into a presentation called, 'After High School, What's Next?' It's about chiming in on a 12-24 month scope after high school, presenting life topics and challenges.
One of his most notable undertaking achievement was having his 1st Response Security Company on hand at Super Bowl LI which was held in Houston, TX. 1st Response Security provided security services throughout the city for all the Super Festivities.
Joshua gives credit to the person he has become, his mother (Yalonda) who has many strong Black Women worked several jobs to put him through college, and his Grandmother (Merlee) who stressed to him not to pray to be famous or rich but to pray for wisdom.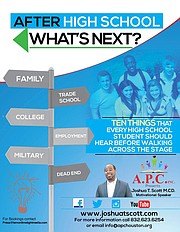 For more information on Pastor Joshua T. Scott, please visit: www.joshuatscott.com