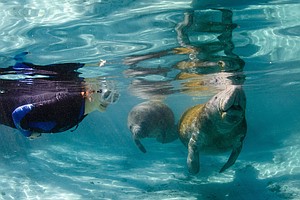 Ready. Set. Go. It's time to start planning your mini vacation getaway!
Recently, my travels took me to sunny Tampa Bay where I discovered a whirlwind of fun and adventure that included roller coasters, paddle boarding, and swimming with sharks (yes, sharks!). And while I really didn't think the adventure could get any better, I was immediately proven wrong. Tampa Bay serves as a perfect destination hub for the best day and overnight trips. So get packing and get ready to take a road trip!
Swim With Manatees Tour
Plantation Adventure Center
www.plantationcrystalriver.com
About 90 miles north of Tampa is Crystal River, one of two places in the US that legally allows swimming with manatees. What are manatees you ask?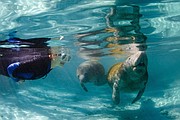 Manatees are large (but very cute) aquatic sea mammals that are often referred to as "sea cows". Don't worry, they may be big in size but are perfectly harmless and I guarantee that you will find your self in complete awe observing them in their natural habitat while you snorkel in the clear waters. These gentle plant eaters are fun to watch in the morning so it's best to be prepared to get an early start. Our group was in the water by 7am.
Sidenote: In order to have the best experience, it's recommended to schedule this particular adventure in the early morning hours since manatees are active looking for breakfast and doing a little socializing in between. After morning hours, the manatees pretty much like to spend their afternoons sleeping. Also, the best time of year to get the best manatee viewing experience is between the months of November through April. Since manatees technically don't have any blubber to keep them warm, they tend to search for warmer water when the Gulf of Mexico waters dip below 64 degrees. In their search for warmer water, they end up in Citrus County (Crystal River).
For a great professional and educational experience, make sure to book your visit with the Plantation Adventure Center. The friendly, knowledgeable staff has a true spirit for preserving and protecting all of the area's natural habitats. They will provide you with all of the gear you need, from wet suit to snorkel equipment and even some hot chocolate to warm you up once you've finished frolicking in the water with your new manatee friends!
After your adventure with the manatees, make sure to head over to the West 82 Bar & Grill located inside the Plantation on Crystal River Hotel. From fresh Florida seasonal fruits, to sunrise specialties like the eggs benedict, to a three egg omelet (your way), and even tasty biscuits with sausage gravy (I still think about those biscuits!), West 82 will definitely satisfy your appetite after a long morning of swimming with the oh-so- cute "sea cows".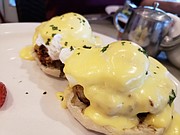 The Plantation on Crystal River Hotel is also a good place to check in to and spend some time relaxing, sipping on a cocktail while enjoying the scenery of the 232 acre eco friendly resort.