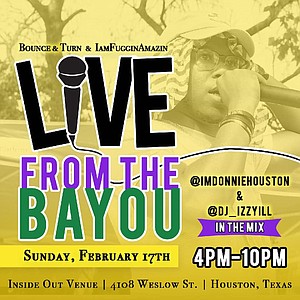 There's a fresh new festival in Houston and it's called, Live From The Bayou. This will be Louisiana Hip-Hop Artist John Fuggin Dough's 2nd round at the festival. The inaugural event took place last July 2018 at the Compound in the heart of 3rd Ward. This go-round Dough's vision is to elevate the experience by adding one of the city's hottest 'Texas rap party' entities that is committed to promoting Houston's unique grassroots' culture, 'Bounce & Turn'. With that being said, Bounce & Turn and John Fuggin Dough, also known for his IAMFUGGINAMAZIN brand, is set to bring his vision of Live From The Bayou: 2nd Edition hosted by Phresh Marley to one of Houston's newest event worthy spots, Inside Out Venue (4108 Weslow, St. Houston, TX 77087) on February 17, 2019 from 4pm-10pm.
The highly anticipated event is a tribute to bridging the gap between artists from various cities in Louisiana & Texas; it's about unity while having a good time. Over 250+ festival goers will experience sounds from H-Town's own DJ Donnie Houston & DJ Izzy Ill while enjoy delicious food from Sponsor Go Cajun Subs, a live crawfish boil + South Pain de Vie while perusing local vendors inside & outside the venue. Author Kimberly Meija- Real Woman Real Talk, natural enthusiast Kerristen Elise- Seven Leaves Raw Cafe and Jrocxx- One Oak Apparel will be in the building. Notable sponsor, Harper's Mega Services. Incorporating a shopping element is apart of Dough's vision to connect Houston's authentic culture with supporting small-businesses just like in his popular single, "Tubmans." Artists Retro Kash, 2Raw, MsUp Milo, Deezy & Jamie Hancock will bring the flare of southern rap culture to the stage. Media maven Hope Carter will conduct on-the-spot interviews with festival goers, artists and A-listers.
For more information, click here.