Trump's racist Elizabeth Warren taunts have entered a new phase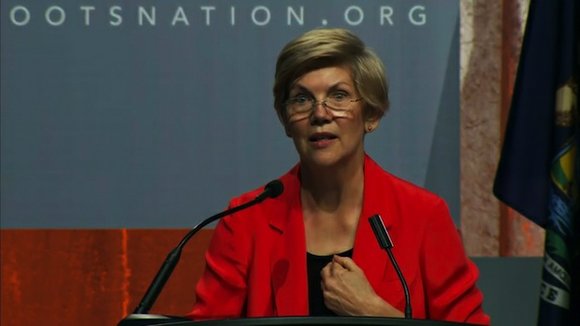 Climate change, as has been pointed out repeatedly this winter, does not mean there won't be snowstorms. Hopefully, Trump knows that at this point. It doesn't really matter, though, since he'll take any opportunity to tweet a jab, regardless of the seriousness of the issue.
Twitter jokes rarely blend with policy, and it is not just Trump who has seen a Twitter taunt fall flat.
Rep. Ilhan Omar, the freshman Democrat from Minnesota, faces backlash for her retweet of a comment by the activist/journalist Glenn Greenwald.
Greenwald said: "GOP Leader Kevin McCarthy threatens punishment for @IlhanMN and @RashidaTlaib over their criticisms of Israel. It's stunning how much time US political leaders spend defending a foreign nation even if it means attacking free speech rights of Americans."
Omar added: "It's all about the benjamins, baby" along with some musical note emoji.
That's at once a reference to the Puff Daddy song but more importantly a suggestion that Jewish interests like AIPAC have maintained their power with campaign donations.
Fellow Democrats who are Jewish were not amused.
"At a time when anti-Semitic attacks are on the rise, our leaders should not be invoking hurtful stereotypes and caricatures of Jewish people to dismiss those who support Israel," Rep. Max Rose, D-New York, tweeted.
It's not the first time an Omar tweet has drawn allegations of anti-Semitism. Her arguments against US support for Israel are at this point being overtaken by the tweets. Omar is one of just three Muslims on Capitol Hill and she supports more support for Palestinians and a boycott of Israel.
That Omar should be accused of anti-Semitism after criticism by McCarthy is thick with irony since McCarthy, the top Republican in the House, faced his own controversy last October when he said on Twitter that billionaires like Michael Bloomberg and Tom Steyer -- two men with Jewish heritage -- were trying to "buy" the election the day after a pipe bomb was sent to George Soros' house.
Omar and Trump's tweets are different in that she is making a policy point and he is simply trying to tease Warren and remind people of a controversy following her (the same way he consistently found ways to remind voters about Clinton's email practices in 2016).
But the two sets of tweets are the same in that social media potshots and taunts, regardless of racial insensitivity, feel normal now. Add them to the daily reminders of the racial fissures dividing this country.