5 key takeaways from Donald Trump's State of the Union speech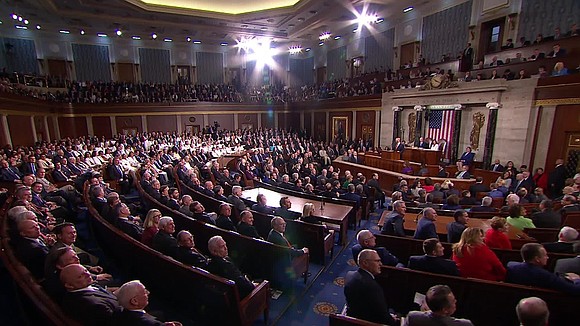 Analysis by Chris Cillizza, CNN Editor-at-large
(CNN) -- President Donald Trump delivered his State of the Union address Tuesday night, a speech that was, in equal measure, surprisingly bipartisan and deeply divisive -- reflective of the deep contradictions that sit at the heart of his presidency.
Within just a few paragraphs, Trump swerved from calls for unity and shared victory to blasting Democrats on their opposition to his proposed border wall. In one breath, he touted the low unemployment rate. In the next, he insisted that if Democrats wanted peace and prosperity, then they could not carry on "partisan investigations."
It was vintage Trump -- in all its incongruity, unpredictability, exaggeration and occasional moments of surprising grace.
I watched the speech (all 82 minutes of it) and took notes. My initial takeaways are below.
1. Trump started on a bipartisan note, but ...
In advance of the speech, administration officials pushed the idea that Trump would extend an olive branch to Democrats and urge the two warring parties to come together for the good of the country.
And he started on just that note. "There is a new opportunity in American politics, if only we have the courage to seize it," the President said in the speech's earlier moments. "Victory is not winning for our party. Victory is winning for our country."
Which is a great sentiment!
The problem, of course, is that Trump is a deeply flawed messenger on the whole "unity" thing. A pitch like this one -- "We must reject the politics of revenge, resistance and retribution -- and embrace the boundless potential of cooperation, compromise and the common good" -- could work if spoken by someone who, well, is not Trump.
He literally turned the "politics of revenge, resistance and retribution" into an art form during the 2016 campaign. To turn suddenly and ask the assembled Congress to put aside nasty rhetoric and name-calling feels a little pot-calling-the-kettle-black-ish.
And even as he called for unity, Trump repeatedly cast Democrats as obstructionists bent on open borders and unwilling to condemn voices within their party making extreme remarks on abortion.
2. Peace ≠ "partisan investigations"
The line likely to be quoted most -- especially by Trump's critics -- from the speech was this one: "If there is going to be peace and legislation, there cannot be war and investigation. It just doesn't work that way."
The logic here, while strained, goes like this: If you want economic prosperity, you can't investigate the President. One doesn't work with the other.
It's quite a line, given that Trump's administration is in the midst of an investigation led by special counsel Robert Mueller, his company is in the midst of an investigation by the Southern District of New York and House Democrats are preparing a series of investigations into, among other things, Trump's Cabinet, his taxes and the firing of FBI director James Comey.
It's also a line that evokes a less-than-ideal comparison for Trump. "I believe the time has come to bring that investigation and the other investigations of this matter to an end," said then-President Richard Nixon in his 1974 State of the Union speech. "One year of Watergate is enough."