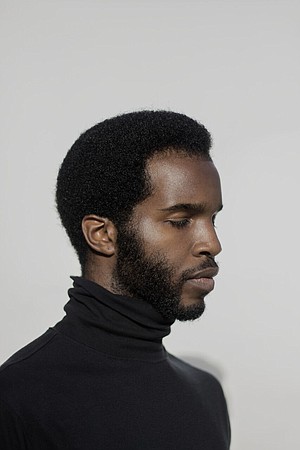 Known for its unique hip-hop culture and gospel music influences, Houston is home to many rising genres within. In the belly of the city are creatives such as Obinna (better known as "Obinaa") creating an interestingly-peculiar sound wave of R&B the industry has yet to discover. Obinaa launched his solo musical journey in 2015. His melodic tone is nostalgic and smooth with a resonance of warmth.

Holding the title as the youngest child, he grew up in a home that was abundant with musical influence. From the likes of Hip-Hop soul, R&B soul (Lauryn Hill) to classical jazz (Stevie Wonder) alternative rock (Fleetwood Mac) as well as West African traditional music. His artistic visuals and story-telling through his music has him in a league of his own. We got a chance to catch up with Obinaa to get to know a little bit more about who he is.
Keandra Scott: Are you originally from Houston, TX? Tell us about growing up in the south.
Obinna: Yes, I am originally from Houston, Texas. Born and raised here. Which is funny that you ask because people will sometimes ask me where my accent is from and I'm just like oh it is from Texas. You know, the south is truly home. I think a lot of people wouldn't understand the southern culture and how it plays a major role in shaping who we are. You have to really be immersed in it. I imagine it to be this kingdom or realm where all of the people are connected. The south is just that rich in culture and in history. I view it like a mother that's raising her children for the real world.
Growing up as a kid my childhood wasn't any different from my fellow peers. I went to public school on the south side of Houston. I grew up in a house with three of my siblings. We always had fun at home literally every day was an adventure. I am the youngest of nine so you can imagine the love present. My father is from Africa and my mother is a southern girl from a small town in Louisiana. The gods were hard at work to form that union. I love my parents so much.
I really enjoyed my childhood and teenage years. I sometimes have to revisit that era of my life. I gain perspective and clarity on why I am doing what I am as an adult. How my experiences contributed to who I am today. That time of my life was full of imagination and self-discovery.
One of my best memories about growing up in the south is the food and music. The south is known for those two things. Things are a lot different now than they five years ago. You have to remember your beginnings and where you came from. I have a tremendous amount of empathy for the youth and the pressures that they have to endure. The ways of the world can be heavy at times. Remaining true to yourself can be a challenge.
KS: Is there someone from Houston that influences your sound?
Obinna: That is a tough question. Because I cannot just pick one. I would definitely have to say, Yolanda Adams. My mother would play her every morning on Saturdays. I think her influence for me is how her music is able to move the listener emotionally. Of course, we have the legendary DJ screw. There's also Travis Scott who is impeccably talented.
KS: You mentioned you were the youngest child around an abundance of musical influence. Are your other siblings and parents musicians or singers? Who bestowed the influence of music on to you?
Obinna: As a kid, I was introduced into many different types of genres of music. My mother was always singing around the house. She would play classic Motown, Anita Baker, The Temptations all types of black classical soul music. My dad didn't play much music but he was very knowledgeable about sounds and cultural music. Two of my siblings were in a music singing group and I would always go to their sessions and help out. That was a way for me to cultivate my writing and express myself through music. That is how I became a singer songwriter. From that point on I continued to work on my craft. I would say music was bestowed on me by my family and environment.
Obinna: What sparked the creation of "Antydote?"
KS: I started writing "Antydote" in the spring of 2016. At the time I was in a place where things weren't going so good in my personal life. I also had a project due the year before that didn't turn out as I desired. It was hard for me to accept. You put in all this work and energy into something and one day it's just over. Things just seemed to be moving slow and I wasn't inspired enough to create. I decided to take a break from making music and live. I focused on my other passions and projects. The rest of that year I focused on cultivating my emotional, spiritual, and mental health. I read a lot of history books to pass time. I learned about meditation and how to incorporate health and 65 into my life. I furthered my knowledge of cultures, religions, planet earth, space, and the Bible. I wanted to feed my brain something of substance. I gained a lot of knowledge about myself as a man of color. In that time I became even closer to the creator and I grew up mentally and spiritually.
The record started off as something more surface and fun. The track is produced by "POWER" who is crazy talented. He has worked with the likes of Rich the Kidd and Quin. In May 2017 I got in the studio with "CQ ( let it run )" to finish the record. Everything just flowed at that moment and "Antydote" was born. To accompany the record I created a visual short titled "Desolation." The story was creative directed by "Riot Muse" and covered the journey and story to "Antydote." Metaphorically speaking "Desolation is about self-destruction and rebirth. It's divine and universal, an important message in the art form.
KS: Where does the influence of your style come from?
Obinna: I am influenced by many different eras. My style really depends on my mood. I am in touch with many different genres of music mainly. That can also play a role in my style. I love things that are vintage and alternative. The 70s era is very inspiring to me also. I love the bold colors and patterns that were present. Everything was bright and fun. A bit like myself. It's mainly everything I was around growing up. I would say my style is rooted in the 90s but I have an affinity for futurism. I love films and seeing how narratives come to life on screen like Wachoskis, who wrote and produced The Matrix film. Kubrick is also a great inspiration for me in the film. I want to bring that influence and style to my music and visuals.
KS: Is there an album in the works?
Obinna: Yes, there is a project in the works. I am working on it. It's in the early stages. I am in a cool creative space and I want to share that. I really want to work with new upcoming producers so I am looking to meet those individuals. I am all about supporting the indie underground artist. I understand the struggle so teamwork is very important to me. If you know them send them my way. I am always ready to build.
Obinaa recently launched his indie label called RAD YOUTH. The label is in the early stages and he is super excited about what is to come in the future. He is currently looking for creatives and fresh new talent to be apart of the team.
"I think it's time Houston does it the right way, " he says. "We need new fresh ideas and new faces. There is so much talent here. We just have to support and be open to change."