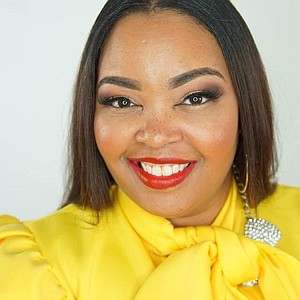 "No matter what you see you have to see yourself up..." -Author Kenya R. Gary
Certified Life Coach And Author Kenya R. Gary is filled with vision and faith. Her first book, See What You Believe: Discerning The Invisible, is about seeing through your spiritual eyes and not with our natural eyes. Kenya is owner and operator of The Vision Firm, LLC, a full service company that offers a creative and professional view in all phases of Organizational Structuring, Small Business Strategy and more. As a certified coach, Kenya offers individual life coaching and Leadership seminars. Kenya is also a mother of two and has been married to her husband Tanner Gary for over 15 years. Together, The Garys have a Power Couples Ministries where they share advice for marriage through faith and discuss relationship topics.
Before Kenya's present point, she has been through the trenches and the depths of turmoil growing up. "In 2017, I woke up one day and started feeling really bad.. my stomach was hurting.. I told my husband to take me to Urgent Care around 6am on a Wednesday morning.." Kenya's blood count was extremely low and she needed a blood transfusion. She stated, "The nurses told me an Oncologist was going to meet me. I've heard that word many-many times." [As she re-lived that very moment] Both her Grandmother and Great-Grandmother in addition to other close family members have passed or experienced a life-threatening diagnosis so the fear came over her like a dark shadow. Kenya got the news they found something and they needed to perform emergency surgery on her and then The Resurrection happened. The doctors had to shock her back to life. After surgery, Kenya was in so much pain and at the time, they were not giving any medicine. Her new book goes through a process of what she saw and how it intertwined at anytime or point in her life. Kenya said, "It's about time and not just wasting time, but, valuing it." Unbelievable, she experienced another episode where she almost died again. Prayer was at the center of her life at this point, for balance and peace.
Even earlier in Kenya's life, the lesson of being strong and learning to love was hard even as a child. At the age of 8, she was molested, her mom was on drugs and her dad wasn't around. Kenya found herself in a relationship with an older man when she was 13 years old. "I had an R. Kelly in my life.. I saw myself." Her boyfriend was abusive verbally and physically. "He hit me with a beer bottle in my face and had sex with me.... You see, the resurrection is not about the experience the lord has taken me but its about every experience that has set me up to be a survivor. I'm talking about what happens and how I survived..." The Resurrection Anointing is slated to be released in April 2019. "It's my baby. I realized it took dying for me to actually say I have to live.. The goal of the book is to help people understand that everything that goes on in your life. By any means necessary I know what God has me to do. I may have to leave people behind. The Resurrection Anointing was pre-read by my best friend, " Kenya stated. She didn't' know if she was going to get her old friend back.
When we asked her how did she learn to love again, Kenya replied, "It wasn't until he almost killed me. I lost consciousness of who I was. I was at the end of myself. Sometimes we didn't have food or lights. The person who was helping me told me I looked bad. I decided one day while looking out of the window it was time for me to leave. At the age of 13, it didn't stop there, I had a pattern, I left out of one abusive relationship to another person who would abused me in a different a way. The cycle in abusive relationships was over and over.. I had a light bulb moment with the Lord, it was when I had my first child. I made a vow to the Lord to give my life to Kenya. I started to take myself out on dates. If you are not careful, you will constantly be a transformer."
Kenya Gary's Ministries has an event coming up on February 23, 2019 called The V. I. P. Workshop (Vision with Intentional Purpose). Be sure to check the links below to stay in the know on all things Kenya.
Follow Kenya R. Gary on Social Media:
Facebook @thevisioncoachk & Twitter @mrskgary
Visit Kenya R. Gary's website for forthcoming events, books and more: