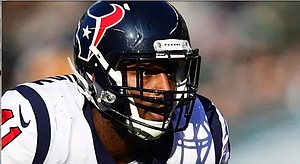 There is an old phrase that has been used throughout the time that goes, "The buck stops here." The meaning of that phrase is associated with the responsibility for something that cannot or should not be passed to someone else.
When you watch the Houston Texans defense play, there are certain players that stand out. Earlier this year it was future first ballot Hall of Famer J.J. Watt. After every sack, Whitney Mercilus plays his air guitar along with the other linebackers. Any pass breakup or interception by Justin Reid or Jonathan Joseph is usually greeted with a celebratory gesture to signify a good play. But there is one player for the Texans that flies under the radar that will be the Texans Defensive Player of the Year and should garner All-Pro votes and a starting nod for the AFC in the 2019 Pro Bowl.
Linebacker Zach Cunningham is the true definition of a player with "The buck stops here" mentality. He is currently seven tackles (133) behind Green Bay linebacker Blake Martinez (140) for most combined tackles in the NFL. Those numbers have him first in the AFC in that category and over the last four games, Cunningham has recorded double digit tackles in three of them. The Texans are 3-1 in those games and are in first place in the AFC South.
"Man, he is playing at a very high level," said Texans head coach Bill O'Brien said at his weekly press conference on Monday. "I think anybody that puts the film on and watches how active he is and how he's tackling and just his instincts for the ball, what he's doing in coverage – he's playing at a really high level. Yep, having a really good year."
Drafted out of Vanderbilt with the 57th overall pick in the 2017 NFL Draft, Cunningham has easily become a player offensive coordinators look for when they are drawing up game plans against the Texans. His 16 total tackles (11 solo) vs. Denver in Week 14 helped him become the third player in franchise history to record at least 15 total tackles in multiple games of a season (Jamie Sharper and Jay Foreman in 2003) and his two games with 15-or-more tackles this season leads the AFC and is tied for the most in the NFL.
For Houston to advance in the playoffs against some of the upper echelon teams in the AFC, the Texans defense will definitely need to lean on Cunningham to do what he does best. Tackle.