Thankful: Texans give fans a reason to be thankful after dominating the Patriots 28-22.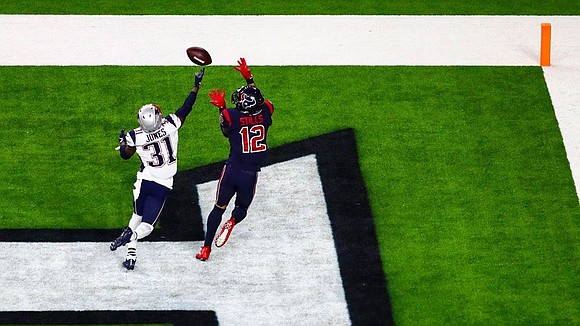 Thanksgiving came a little late this year in the city of Houston. Even though families gathered on November 28th to celebrate the holiday, fans in Houston gathered on the 1st of December to show their appreciation and thanks to the Houston Texans. The team reciprocated that love by defeating the reigning Super Bowl Champions, New England Patriots 28-22 in a prime-time Sunday night game played on NBC at NRG Stadium in front of a crowd of over 72,000 people in attendance.
"I think it was a good win," said head coach Bill O'Brien. "I think guys worked hard this week. I think it hasn't always been perfect this year, but they've come into work every week focused."
Houston used a stellar performance from its superstar quarterback, Deshaun Watson who had complete control and command of the Texans offense. His elusiveness and wit kept the Patriots defense who was ranked in the top-five coming into the game confused and on their heels all night. Watson finished the game with 234 yards passing and four touchdowns. Even though his three passing touchdowns were impressive, it was his six-yard receiving touchdown that brought the crowd to its feet.
Yes, you read that last sentence correctly. His receiving touchdown.
In the fourth quarter, the Texans were faced with first and goal on the new England six-yard line. Houston lined up in its regular shotgun formation with Watson at the quarterback position and Duke Johnson at running back. At the snap, Watson handed the ball off to Johnson who immediately handed it to wide receiver Deandre Hopkins. As the Patriots defense converged onto Hopkins, he pitched the ball forward as he was being flipped from the seven-yard line to Watson who took it in for the score.
"It was a play we've been working on for four weeks," Watson said about the trick play. "Hop (DeAndre Hopkins) was excited. Give all the credit to Hop and the pass. It was good."
For as great as the Texans offense played on Sunday night, the defense matched their intensity and fervor by limiting first ballot Hall of Fame quarterback, Tom Brady for most of the game. The stat sheet and score at first glance would make one think that Brady had a good game, but most of his passing yards and touchdown passes came late in a game that had already been decided.
Houston held the Patriots to only three points through almost three quarters of play. New England scored its first touchdown with 17 seconds left in the third quarter.
One player who made an impact in this game from the defensive side of the ball was Texans cornerback, Bradley Roby who was playing in his first game back from injury. His interception off of Brady in the first quarter help set up a Houston touchdown and his sack in the third quarter helped stall a Patriots drive.
Roby was playing with a heavy heart as he buried his grandfather a day prior to the game.
"This game was special to me because my grandfather just passed (away)," Roby said after the game. "I went to the funeral yesterday, and I promised him, and I promised myself that I would make some plays. He was blind, so he never saw me play. Maybe he could see me now. That's what I wanted to do, I wanted to honor him. Rest in peace to my granddad."