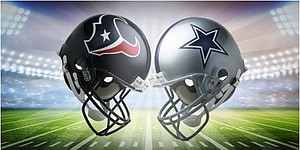 There is an old saying that I heard growing up that is drenched (no pun intended) in negativity that states, "When it rains it pours." The original phrase is an old English proverb, "It never rains but it pours," suggested that when troubles come, they come one after the other.
That saying must have been playing over and over in the mind of the Houston Texans coaching staff as they watched their team lose to the Dallas Cowboys 34-0 in their third preseason game. Houston looked lethargic from the jump as their first offensive drive showed fans that they were in for a very long night.
The Texans gave up a sack on quarterback Deshaun Watson on its first play of the drive and suffered devastation on the next play after starting running back Lamar Miller was hit in the knee by Cowboys defensive tackle Malik Collins for a one-yard loss. Miller laid on the turf in pain and was later carted off the field.
"It was very tough," Watson said after the game. "You have a guy so special to this team. He's a professional each and every day. Anybody gets hurt, it's tough. But he's one of the guys that bring a lot of energy and a lot of power to this team. It's tough to see him go off on the cart. I prayed for him. We'll be there for him every step of the way."
On the third and final play of the night for Watson, he fumbled after being sacked by Cowboys defensive end Taco Charlton. Dallas would capitalize off the turnover by scoring on their next offensive possession when Dak Prescott found wide receiver Michael Gallup for a 12-yard touchdown.
"I only played three plays," said Watson about his performance. "I guess I can't really speak on it too much. Of course, we wanted to go down and drive. But on the second snap of the game, Lamar gets hurt. So, you really can't get a feel of the game but that's how the preseason goes."
Things would go downhill from there for the Texans. They had a miscue on special teams when rookie fullback Cullen Gillaspia missed a block on Cowboys Joe Thomas who would block the punt and recover it in the end zone to put Dallas up 14-0. Houston would lose another offensive player to injury in the first half as guard/center Zach Fulton was carted off the field and never returned.
The Texans offense was only able to muster up 135 total yards for the game and gave up eight sacks in the process to go along with four turnovers (2 interceptions/2 fumbles). Backup quarterbacks Joe Webb III and Jordan Ta'amu combined to go 10-for-26 and 88 total passing yards for the game. They were under pressure all night by a Cowboys defense that was intent on making the Texans offense uncomfortable.
"When the defense takes the ball away and the offense cashes in on it, then you get the blocked punt and then we're getting after the quarterback and then we got another takeaway. Those are all things that you want to have on your team and you want to make it contagious. You want to respond and feed off of those things and gather momentum as you go," Cowboys head coach Jason Garrett reiterated during his post-game press conference.
Houston will play their final preseason game at home against the Los Angeles Rams on Thursday.