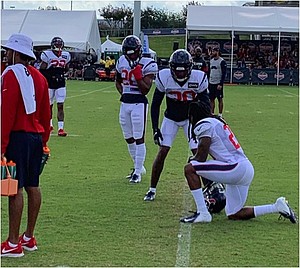 The Houston Texans and Dallas Cowboys prepare to square off tonight in the Governor's Cup preseason game in Arlington. There are a couple of positions and players you should watch for on the Texans side of the ball.
Secure the Middle
The one position that has not been talked about a lot during training camp is the nose tackle position. Four-year veteran D.J. Reader patrols the middle, followed by Brandon Dunn. That leaves space for one more NT to be placed on the final 53-man roster. The only issue is, there are two really good rookies vying for that one position.
Walter Palmore out of Missouri has impressed the Texans defensive coaching staff. With Reader and Dunn having their snaps monitored, Palmore has been getting a lot of action at the NT spot. The 6'4/320 pound down lineman has done a good job but has been slow to get off the ball sometimes. It will be something I am sure he will work on in the final two preseason games.
The other rookie longshot is hometown kid (Aldine Davis HS) and former Colorado defensive lineman, Javier Edwards. He hasn't gotten as many snaps at the position as Palmore, but when he has been in the game he eats up a lot of space, which is the primary duty of a good nose tackle. Edwards has the same issue his rookie counterpart has and that's the inability to move quickly at the snap of the ball. Hopefully, he has been working with defensive line coach Anthony Weaver on improving that.
Go Long
The Texans ended last season with a deficiency at the wide receivers position due to injuries. They were without their downfield threats, Will Fuller and KeKe Coutee for the majority of the season. Well, I guess former GM Brian Gaine and head coach Bill O' Brien made sure that they won't have that issue this season. There will be a plethora of players trying to secure that fourth and fifth spot showcasing their skills tonight.
Pay close attention to Tyron Johnson, the speedster out of Oklahoma State. He has displayed his speed at the wideout position in the two preseason games he has played in and hopes to impress coach O'Brien and special team coach Brad Seely tonight on the kickoff return team.
Kickoff is at 6 pm CST.