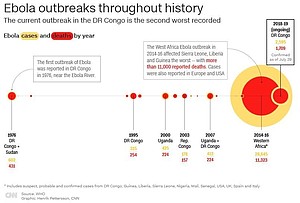 These fears and suspicions have even given rise to violence -- there were 130 attacks on health facilities between January and mid-May, causing four deaths and injuring 38.
The two effective drugs could help counteract these fears and suspicions, and make local patients more willing to seek treatment, researchers said on Tuesday.
"If they see 90% of the patients can go into the center of treatment and come out completely cured, they will start believing it and building the trust in the population and the community," said Muyembe-Tamfum.
Yet the findings don't mean the Ebola problem is solved, warned Michael Ryan of the WHO. The two drugs are "a new tool in our toolbox against Ebola, but it doesn't in itself stop Ebola." What's still needed is greater community engagement, vaccination, prevention control, surveillance and the implementation of therapeutic treatments.
"It's not one answer," Ryan added. "But we've taken a huge step forward today."
Researchers working with the WHO and the four pharmaceutical companies that make the drug -- MappBio, Gilead, Regeneron, and Ridgeback Biotherapeutics -- have been racing to stop the Ebola outbreak.
Health workers and DRC officials are on especially high alert -- from July 14 to August 2, four cases of Ebola reached the major transit hub of Goma, which sits right on the Rwandan border.
Before then, Ebola had never reached Goma, which is home to more than 1 million people. Now, health experts fear the virus could make its way across the porous border into still-uninfected Rwanda.
The rare but deadly disease can cause fever, headache, muscle pain, vomiting, diarrhea and unexplained bleeding, among other symptoms. The virus was first identified in 1976 when outbreaks occurred near the Ebola River in the DRC.
Scientists think the virus initially infected humans through close contact with an infected animal, such as a bat, and then it spread from person to person.
The virus spreads between humans through direct contact with an infected person's bodily fluids, including blood, feces or vomit, or direct contact with contaminated objects, such as needles and syringes.