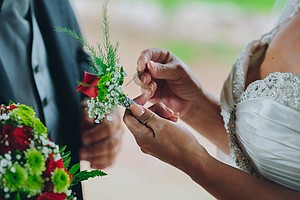 To be clear: senior year is a time of grand celebrations for students and their families. The demand now-a-days for seniors to have pristine resumes to be considered for top colleges, scholarships, military programs and/or mentorships is taxing on the entire family. The family's schedule and budget are often augmented to support its senior's pursuits of extra-curricular activities, part-time jobs, and interest groups. So, naturally, when it comes time to celebrate the grand finale, families show their pride in their students' accomplishments and rites of passage by showering them with parties and gifts. Prom is one such rite, with no exception.

For decades, prom has been celebrated as a symbolic ushering of adulthood as families and friends have gathered to take pictures and celebrate with prom-goers as they embark on their big night. Back in the day, high schools decorated their gyms, parents bought seniors new 'dress' clothes and loaned them the keys to the family car to affirm their maturity and give them an expectation for 'finer' engagements. As years progressed, proms were held at hotels, parents rented tuxedos, gowns, and cars for their seniors. Now, proms are full on productions: students plan elaborate Promposals; they wear tailored suits and designer dresses; and parents make sure they arrive in style, in everything from chariots to helicopters. Wait, helicopters?!? Too much? I'd always thought so until, like with most things, my exposure changed my perspective. Let me share the story of the young lady who changed my mind about this whole helicopter business: Ms. Kennedi Taylor Wesley.
Last Tuesday Kennedi texted her mom from school asking if she could rent a helicopter for prom. In response, her mom questioned whether she was intoxicated for making such an extravagant request. Kennedi persisted, however, so for laughs, her mom shared the exchange on Facebook. Up to this point, I'd been vehemently opposed to such indulgences for folks without 'real' jobs. But Kennedi's case is extraordinary. Her parents and I are alumni of the same university and her mother and I are sorority sisters, so our kinship has drawn my attention to Kennedi's accomplishments throughout the years as they were shared on Facebook. This year, leading up to the infamous text exchange had been no different. I shared, with others, in her parent's pride and joy as she was named Valedictorian of her senior class at KIPP Sunnyside High School while taking Advanced Placement (AP) courses, holding office in Top Teens of America, cheering and participating in a host of other activities. We were especially excited to learn of Kennedi's early admission to Duke University late last year.

In celebration of Kennedi's achievements, one of our sorority sisters responded to the post with a vendor she used to rent a helicopter for her wedding. Mom scoffed at the idea of the comparison, but the sister pled her case for the helicopter with a simple justification, "She did get into Duke." As responses accumulated, many, including myself, echoed the sentiment that we agreed Kennedi deserved to arrive to prom in a helicopter. I could see the hard work and dedication it took to accomplish all Kennedi has as fair exchange for the opulence. The day following her grand request, Kennedi learned she made Duke's cheer squad. Two days later she was informed of her selection for the 2019 Greater Houston Black Chamber (GHBC) & GHBC Foundation Educational Achievement Scholarship Award. I am like Arnold Schwarzenegger in "Predator" at this point, "GET THE CHOPPER, NOW!"
I guess the answer to my question is: if you have been generous enough with the 'rod' that your child has enough self-discipline, ambition, and motivation to 'level-up' as Kennedi has then the helicopter seems a just reward and a glimpse of what's certainly in store. Bottom line, I'm rooting for Kennedi to get the helicopter and everything else she wants out of life. So, here's to Ms. Kennedi Taylor Wesley and all of the other deserving seniors of the Class of 2019.