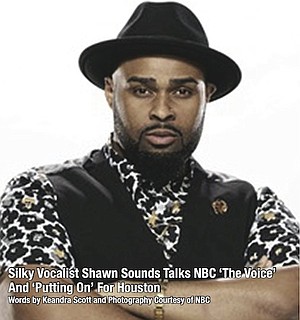 It's Team John Legend for Shawn Sounds after blowing the judges away with his rendition of "All My Life" by K-Ci & JoJo. The vocalist is coming out the gate swinging as he battles to the top of NBC 'The Voice'; Houston, Sounds just might be the chosen one. The four-chair turner is serving the world warm tones and silky-smooth vocal range as he channels the spirit of Luther Vandross; we promise you the legend lives in his voice. Known as Mr. Lionel Taylor to his students at an Aldine ISD middle school, the singing educator teaches an important lesson of 'going after your dreams' as he progresses through 'battle rounds'. We got a chance to have a hometown chat with 'The Voice' contestant.
Keandra Scott: What are you doing when you're not singing?
Shawn Sounds: I enjoy writing music, walking dogs and playing coolgames on my phone apps. Also, I enjoy taking different types of dance classes (cardio and aerobics).
KS: Who have you bonded with on-set?
SS: Julian King, Kalvin Jarvis, Kanard Thomas, Denton Arnell, Matthew Johnson, Dexter Roberts, Rod Stokes, and Lisa Ramey. Honestly, I'm really cool with mostly everyone and still communicate with them and John Legend on the phone when I'm not in LA. I've enjoyed bonding with team John Legend. We call ourselves 'The J Five'.
KS: From Louisiana, California, Florida, Alabama to Texas, you have lived in many places. At what point in your life did you know your vocals was anointed?
SS: It was in Kindergarten class. My teacher noticed I sung differently than my peers, the adults at the church, everyone knew it and saw it. I've been around different styles of music since a young age. [Shawn was already enrolled in college-level classes for vocal performance, theater and dance by the time he was in fourth grade. In high school, his family moved to Florida where he joined a community choir that traveled the state singing with artists such as Barry Manilow.]
KS: Who are some of your influences?
SS:Usher and Beyonce. When listening to music I like to go back to the 90s with Brandy, Fantasia, and Musiq Soulchild. I was born in the 80s so I was exposed to Whitney Houston, Luther Vandross, Patti Labelle, Michael Jackson, and so many other iconic artists. Honestly, I didn't necessarily grow up listening to the style of music I sing.
KS: Who rallied behind you to audition for (the hit show) The Voice?
SS: I was actually introduced to the show. I was offered an opportunity to go to Dallas last summer, so I drove 4 hours to audition. I went back until I finally did my blind audition. My students, family, friends, and fans have all been super supportive. My mom and dad met here in Houston and then they moved to New Orleans. There are so many ties to Houston. Houston needs to know, while we have our unique H-Town sound & Beyonce, we really don't have many homegrown artists representing. My goal is to be that and do it for Houston and the world.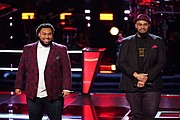 KS: What about John Legend made you give him, "The Green Light" as a coach?
SS:His resume and artistry is #1, he is the best person for me to emulate after. John Legend has multiple Grammys, an Emmy, Tony, Golden Globe, and many other awards. He is classically trained and plays different styles of music. I feel he does what I do; I felt a connection. Most importantly, who better than 'The new kid on the block' that has a point to prove.
KS: Do you incorporate your love for music into your class curriculum?
SS:I teach in a computer lab. One day we will listen to Disney, R&B, Country, and Classical. We listen to different genres because I have an appreciation for all types of music. Although it doesn't align with the class curriculum, I try to make sure I create a relaxing environment for my students. They get to hop on a computer for 45 minutes and learn while listening to music. I also use to teach 9th Grade BCIS at a high school in Galena Park so I truly have an appreciation for teaching kids.
KS: Do you have a favorite key to sing in?
SS: Ha-Ha, I do not. In its original key as it is recorded.
KS: What are your favorite genres of music to sing?
SS: R&B and Soul, hands down.
KS: Have you ever sung background for anyone?
SS: I got a chance to tour with UK Jazz artist Jarrod Lawson. I remember when the company that helped bring him to Houston called me to sing backs for him. They represent and find the best of the best, so I was, even more, happier to get that call. I took the opportunity without any hesitation. I learned all new parts, female and male. It was all worth the challenge and experience. He is one of my favorite indie artists of all time.
KS: Do you have a mantra?
SS:Do the best you can with what you have. It's not even just all about music, it's about life.
Follow Shawn Sounds on Facebook, Instagram, and Twitter @iamshawnsounds
Learn more about the rising star by visiting his website www.shawnsounds.com
Stay tuned to NBC 'The Voice'. Check your local listings. Visit www.nbc.com/the-voice
--
SOURCES:
Shawn Sounds and Matthew Johnson's "Never Too Much" Is a Total Joy - The Voice Battles 2019