Is Breast Cancer everybody's business?
Kermit Williams Jr. | 4/5/2019, 2:39 p.m. | Updated on 4/5/2019, 2:39 p.m.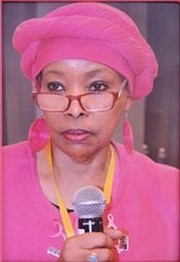 Today we'd like to introduce you to Philippa Kibugu Decuir.
So, before we jump into specific questions about the business, why don't you give us some details about you and your story.
My fight against breast cancer began in 1986 when my sister, Mabel was airlifted to a London hospital for an expensive surgery that could not save her dear life–she died of metastatic breast cancer. My sister's death changed my life in a way that is impossible to comprehend–as I sat on that British Airways in the passenger cabin with my sister's body in the luggage for more than 20 hours. I knew my life would never be the same again. When in 1994, I received my own breast cancer diagnosis, unlike my sister, I was an informed patient who without any doubt was shaken to the core by this news that no one ever wants to hear. Yet again, unlike my sister, the world renown MD Anderson Cancer Center was literary in my backyard. The state of the art diagnosis, treatment, care, and support was a given for me. On top of that, my cancer was detected at an early treatable stage because I knew the importance of Early Detection Practices. Unlike my sister, I survived and although relieved and immensely thankful to be alive, with a new lease on my life, I was perturbed by two questions that would not go away: Would my sister be alive if she lived in the USA? Should, where you live determine if you live or die? Finding answers to these questions became and remains my challenge–I had to do something about this!
Mabel represents so many women in Africa: women who die because they lack access to life-saving information and sustainable diagnosis, treatment, care, and support. I see health as a human right and if that is true, every breast cancer regardless where she lives, deserves the same chance I had. The struggle to answer the two questions caused serious labor pains that birthed Breast Cancer Initiative East Africa (BCIEA) Inc.
BCIEA, while illustrating the big divide between high and low-income countries as far as breast cancer is concerned, strongly believes that Knowledge is Power and is committed to fighting breast cancer through awareness, education, empowerment, support, and research. In 2008, BCIEA was registered in Texas as 501 c3 Nonprofit and the following year, it was registered in Kigali, Rwanda. We started with 27 Rwandan women who had undergone mastectomy with no follow-up and no knowledge about their disease. To date, we have impacted over 10,000 women, men and youth with basic breast health: signs and symptoms risks factors and how to reduce these risks, the importance of early detection and help-seeking behaviors. By providing accurate health information, we are able to dispel fear, myths, stigma, taboos, and misconceptions that, should breast cancer and are associated with late-stage presentations of breast cancer. BCIEA started as a figment of the imagination, but today the program has Nine Components: 1. Community Education Outreach, 2. One Smartphone per Village, 3. Creatively Pink Youth Club, 4. Wellness House, 5. Knitted Knockers Project, 6. Breast Cancer Survivors Support Group, 7. Wellness Garden, 8. Children's Education Fund, 9. Research Team. BCIEA is totally dependent on God's grace through donations and volunteer work and the spirit that never gives up. This coming October, we will celebrate ten years of service and bringing hope to Rwanda more information and how you can get involved can be found on our web site: http://breastcancerafrica.org/