Medical breakthrough helps cut recovery time from months to days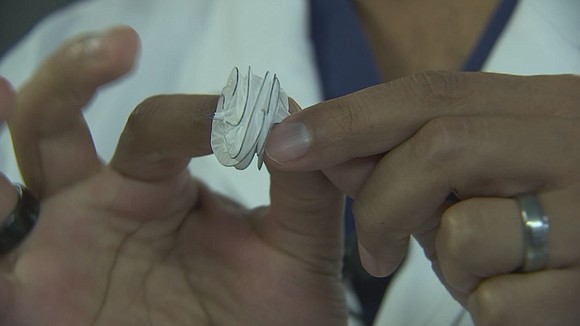 By Preston Phillips
Arizona (KTVK) -- It's a condition that causes debilitating or life-threatening complications, such as severe migraines or stroke.
But now a new medical breakthrough is making treatment for the condition safe and effective.
This is the device that's making all the difference in the world.
It sends a ballooning disc through the femoral vein and into the heart, where it closes a small hole from both sides.
The condition that causes the hole is foramen ovale, more commonly known as PFO.
It's a relatively common yet often hidden condition, in which there's a small hole between the right and left chambers of the heart.
It affects about a quarter of all Americans.
Some may suffer a stroke when small blood clots move through a PFO into the bloodstream then into the brain.
Now, with this device, the time for surgery is only about an hour and outpatient, under twilight sedation.
"This is groundbreaking technology for sure in the sense that you could have your procedure on a Monday and you could be home on Tuesday and back to work on Thursday," Dr. Gopi Cherukuri, a caridologist who uses the technology at Abrazo Heart Hospital.
Before this groundbreaking treatment, you had to have full, open-heart surgery and then three to four months of recovery time.
The American Heart Association reports that although about 25 percent of the U.S. population has a PFO, the condition increases to between 40 and 50 percent in patients who have a stroke of an unknown cause.