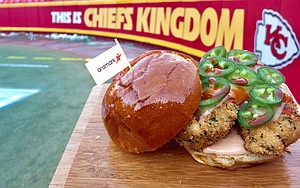 By Drew Kann, CNN
(CNN) -- Stadium concessions have come a long way since stale pretzels and popcorn were about all that hungry fans could look forward to.
As we scoured the menus at NFL stadiums, we learned there are some seriously innovative dishes out there. Dessert nachos, anyone?
And then there are others -- like a 7-pound burger topped with chicken fingers, fries, hotdogs and more -- that beg the question, "Why?"
From the ingenious to the borderline bizarre, here are the 10 noteworthy food items hitting NFL concession stands this season:
Gridiron Challenge Burger
Available at: The Arizona Cardinals' University of Phoenix Stadium
This is easily the most absurd food you'll find anywhere this season, but we must give some credit to the person who invented this monstrosity for cramming so many stadium staples into a single burger.
The Gridiron Challenge Burger is made with five one-third pound burger patties, five hot dogs, five bratwursts, eight slices of bacon ... stay with me ... eight chicken tenders, 20 slices of American cheese, 12 ounces of fries, and "tanker sauce," all stacked on a 10-inch bun. Oh, and let's not forget the veggies - lettuce, tomato and pickles.
The price tag on this mammoth 7-pound burger, not counting the toll it surely takes on your heart? $75.
So how do you tackle this thing? Your cardiologist would probably appreciate you sharing it with friends, but if you are brave enough to go it alone and can finish in under an hour, you will be rewarded with a personalized Cardinals' jersey and the thrill of seeing yourself on the stadium video board.
Battle Red Tacos
Available at: The Houston Texans' NRG Stadium
Frequent eaters of Flamin' Hot Cheetos will know that one of the snack's few drawbacks is the bright red residue it leaves on your fingers.
Thankfully, the brilliant chefs at the Texans' stadium have encrusted chicken tenders with Flamin' Hot Cheetos, topped them with mango salsa and Sriracha mayo, and nestled it all conveniently inside a flour tortilla.
Kingdom Inferno Chicken Sandwich
Available at: The Kansas City Chiefs' Arrowhead Stadium
While we're on the topic of "heat," this new sandwich should keep fans brave enough to try it plenty warm on those frigid Kansas City game days.
This chicken tender sandwich is topped with a mayo made with the hottest pepper known to man -- the Carolina Reaper. And if that's not spicy enough for you, pepper jack cheese, sliced jalapenos and Buffalo sauce turn the heat all the way up.
Not included: water to douse the flames.
Beef Pho
Available at: The Seattle Seahawks' CenturyLink Field
We're a little skeptical about how you slurp this one at a football game without splashing the fans around you.
Regardless, fans of the Seahawks and this hearty Vietnamese soup will have to try this version with braised beef, rice noodles, bean sprouts, Thai basil, Fresno chilis and of course, that rich pho broth.
North Shore Huluski