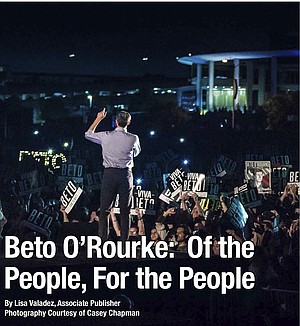 The first time I saw Beto O'Rourke was February 2017, well before he became "Beto O'Rourke For Senate."
Weeks after the "travel ban" became temporary law, I was invited to speak at the No Ban, No Wall rally on the steps of the Capitol Building in Austin. Nerves ran through my body as I was asked to speak in front of thousands of people. At the same time, there was a bit of excitement. I would be speaking right before many prominent political figures and while they were trained public speakers, I anxiously reviewed my speech and waited for my turn.
O'Rourke, upon first glance, is charming: tall, warm smile, firm handshake. All qualities of a potential politician wanting to do right by his constituents. He introduced himself with direct eye contact. "Beto O'Rourke, please to meet you," he said. We spoke amongst ourselves for a moment with a chanting crowd serving as a proper backdrop. He reassured me that I would do just fine just as he stood up to address the people. Poised and carrying nothing but heartfelt honesty, he made an immediate connection with those chanting for an end to the travel ban and disrespect of Mexicans, Mexican-Americans, immigrants and more.
Just like that, Beto O'Rourke, in my eyes became an intriguing candidate. He's currently the State Congressman from El Paso and instead of playing things by the book or by pandering; O'Rourke fluently recited his speech in Spanish. No amount of impromptu research would be right to sum up the effect O'Rourke had on the crowd that February day. As the political chatter flew all around as to see who would be gunning for specific positions in regards to gubernatorial and senatorial races, it was already settled: Beto was going to go up against Ted Cruz in November of 2018.
In the twenty months since that "No Ban, No Wall" speech, O'Rourke has gone completely grassroots in order to meet with the people of Texas, supporters and non-supporters alike. He's campaigned in every county in this great state, took part in town halls, meet and greets, rallies, voter registration drives and so on. He was a Texas phenom for a little while, a people person in the Lone Star State.
Then "Now This," the social media news aggregator got a hold of O'Rourke's remarks in regards to NFL players supporting Colin Kaepernick's right to protest police brutality as the national anthem would be played. His response, in front of an all-white crowd kicked up a firestorm of support nationwide. "I can think of nothing more American than to peacefully stand up or take a knee for your rights anytime, anywhere, anyplace." It no longer became a Texas thing. O'Rourke had become national. Some had even hoped that he would run for President in 2020 and many had begun to ask how to donate to his campaign. #BetoForTexas shirts sprung up in the same fashion as the Nike "Just Do It" slogan. Yards had become overwhelmed with "Beto For Senate" signs. It wasn't just in areas such as River Oaks but in Third Ward, Stafford, Sugar Land and more. The entire state, well large segments of it at least from a certain eye -- are pulling for him.