Level Up with Some Of Houston's Leading Entrepreneurs & Strategists at Prospect Park Houston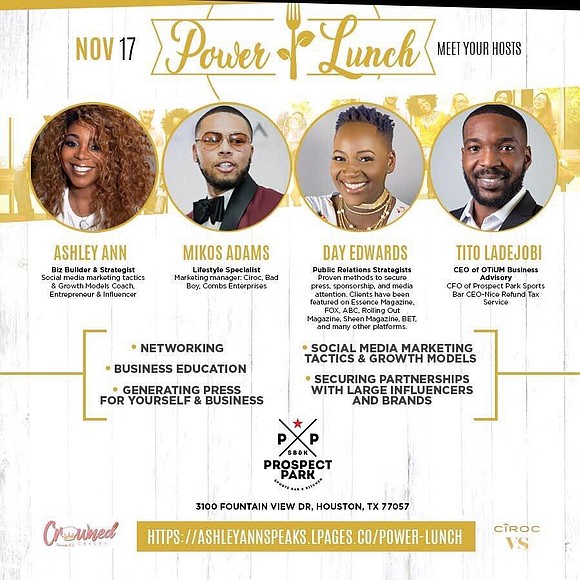 "Marketing is not an option.." - Ashley Ann
Black businesses are on the rise across the globe and start-ups in Houston are becoming the norm. Are you seeking education and motivation to pull you in the right direction of becoming a successful business owner? Well, you might just be in luck. A team of influencers have created a 3-hour incubator for those who are ready to level up their plan to reach a niche market and switch into high gear right before the start of a new year.
Event attendees will be able to share an intimate environment with the hosts and other guests seeking to collaborate with like-minds. Honestly, you never know who may be in the building.
We got a chance to speak briefly on the Power Lunch with Mikos Adams (CEO of The Midas Group/Marketing Manager representing Ciroc, Bad Boy, Combs Enterprises and many other top tier brands), Day Edwards (Public Relations Strategist with clients that have been featured in Essence Magazine and Rolling Out; and on Fox, ABC, BET and many other platforms), and Ashley Ann (Biz Builder, Strategist, Growth Models Coach).
HSM: What can event goers expect from attending the Power Lunch?
Day: They can expect to get some hands on experience from topics ranging from branding, social media to PR. Unlike a lot of other luncheons, it's going to be a very, very hands on event.
HSM: Ciroc recently dropped a new flavor in a sleek black bottle right at the turn of a new season, will attendees be able to try it?
Mikos: Attendees will be able to try Circo Black Raspberry (Winter Edition) as well as all the other flavors at the event that are available.
HSM: What's it like working for P. Diddy?
Mikos: It's kind of stressful at times, but I wouldn't trade it for the world. From traveling to working in a high-pace atmosphere, I love it. I love staying on my toes and seeing what he has under his sleeves week after week.
HSM: How important is it for business owners to seek sponsorship?
Mikos: As far as businesses, it may not be as critical as it is for influencers. For example, an influencer might seek Fashion Nova or Ciroc Brand for sponsorship. [Influencers are set up differently than businesses and they usually have a strong following to accumulate buzz at a different capacity than a business, especially with this new generation.]
HSM: Who should show up on next Saturday, Nov. 17, 2018 at Noon?
Mikos: The event is tailored to anyone who wants to improve their business. There are a lot of people who may need brands to sponsor them. It's pretty much for any and everybody that is seeking more information on how to become successful at what it is they're trying to accomplish.
HSM: What tools should attendees bring with them to the Power Lunch?
Ashley: A laptop, pen and paper so they can be active and participating. I encourage attendees to bring their willingness to be open and have some ideas on products and services you want to market.
HSM: What are some of the barriers in starting a business?
Day: Knowing your audience is important. Every audience may not be receptive to you.
Ashley: I think the biggest challenge a lot of start-ups face is due to clarity. They have a hard time putting it into words. Start-ups can send out mixed messages.
HSM: Are business cards outdated?
Mikos: I still carry them but I am able to update my contact card on my phone and send to others.
Ashley: You have to know your audience, especially if you are working with a younger audience or tech savvy individuals. If someone is really interested in working with you, they'll give you their email and phone number directly into your phone.
Attendees can get more gems from the hosts face-to-face at the Power Lunch held at Prospect Park (3100 Fountain View, Dr. Houston, TX 77057) on November 17, 2018 from Noon-3pm.
For Tickets and more details on the Power Lunch, please visit: